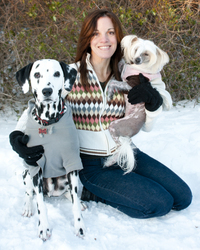 "Using choke chains and forcing dogs on their back until they "submit" are forms of bullying.Your children are learning by your example."
Southampton, NY (PRWEB) January 5, 2011
Bullying starts in the home. Husband to wife, sibling to sibling. And yes, owner to dog. Bullying takes many forms, and can become second nature to those who grow up with bullying in the home. This includes how you interact with the family pet.
New York Dog Trainer and Pet Expert Lisa Hartman believes it all boils down to compassion, communication, and leading by example.
"I have witnessed many wonderful parents trying hard to raise their children with morals and ethics. I hear them tell their kids that if they don't have anything nice to say then don't say anything. But then I hear the parent bashing coworkers or making fun of someone on the phone, and I know the kids heard them." Lisa says it's the same with their dogs. She has witnessed many parents or other dog trainers teaching young children to use a choke chain, swiftly kick, or pin a down a dog for its wrong behavior instead of patiently teaching the dog and encouraging correct behavior. Furthermore, she has witnessed young brothers after a "bullying" style dog training lesson jabbing at each other and pinning each other to the floor until the other "submits". On the contrary, after a positive reinforcement style dog training class, she notices the children are kinder and gentler to their dog AND each other, offering praise and encouragement to one another. The bottom line: children model human behavior.
"Nothing upsets me more than seeing a young person being taught to train their dog with harsh methods and intimidation" Lisa says in her new Dog Training book "DIAL A DYNAMITE DOG: The Ultimate Field Guide for Training Your Pet." "Violence begets Violence. There is enough cruelty in the world. I want our next generation of pet owners, parents and world leaders to learn to communicate with each other with intelligence and compassion, not a heavy hand."
Lisa says that in the world of Dog Training what leads to bullying is a lack of communication and understanding between dog and owner. Social media has not helped. TV Dog Training shows and videos showing trainers using choke chains, prong collars, neck jabs, and forcing dogs on their backs all serve to exacerbate the problem.
"It's ego driven dog training. Using chains and forcing dogs on their backs until they submit are all forms of bullying. There are more compassionate, dog friendly techniques available to solve any problem."
In "DIAL A DYNAMITE DOG"; one of the tricks Lisa proposes is to think in opposites. "If you want the dog to stop jumping, ask him to sit. If you want the dog to stop running out the door, perfect your recall, and praise and reward heavily for compliance." And while constantly bullying dogs can have lasting psychological effects on them, it can equally affect how your child learns to deal not just with animals, but with the world at large. "Children and puppies are like sponges, absorbing information every minute. Your children are learning by your example."
Ms. Hartman, who has worked with everything from Pomeranians to Pit Bulls, advocates positive reinforcement training for all dogs, and humans. She wrote her new dog training book for dog owners short on time and patience. "It's the dog trainer's tricks of the trade" Lisa says of her book. "But it can help you train your children as well. Teach your children to be respectful and communicate better and non violently with all forms of life. But most importantly, lead by example."
Find out more about Lisa at http://www.LisaTheDogTrainer.com
###