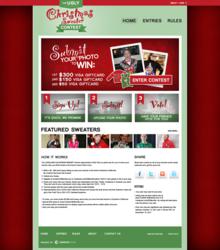 "We wanted to bring some holiday cheer to all the folks who wondered what to do with all those ugly holiday sweaters this December."
(PRWEB) November 30, 2011
Cash prizes and positive votes replace the normal moan, groans, and strange looks one receives from wearing ugly sweaters this holiday season with "The Ugly Christmas Sweater Contest!" Digital Operative, a digital marketing agency (http://www.digitaloperative.com) based in San Diego, CA knew they wanted to do something special this holiday season and reward those who truly deserved it; people brave enough to wear an ugly Christmas sweater. If you have the Ugliest Christmas Sweater in America, this is the online photo contest for to enter.
The rules to enter this contest are simple and easy:
1. Register at http://uglysweater.contestcore.com between November 28 and December 9, 2011.
2. Upload a photo of in your ugliest Christmas sweater.
3. Share the entry with friends and get them to vote for the contest entry.
4. Remember, most votes wins!
Prizes are for 1st place ($300 giftcard), 2nd place ($150 giftcard) and 3rd place ($50 gift card).
Get out to the local thrift store, rummage through grandpa's closet or pull out Aunt Mae's gift from last year; it's Ugly Christmas Sweater time!
The platform powering the online photo contest - ContestCore - is an online contest platform that has benefits beyond rewarding those with hideous sweaters. ContestCore allows companies, brands, bloggers, elfs, non-profits, agencies, small businesses or anyone else who wants to cut through the digital noise to make their presence felt for low investment with a high return. ContestCore has features that make the online contest platform unique in the field and stand out including:

High powered analytics – allows tracking of metrics that will help with business decisions.
ContestCore is fully customizable and is easy to integrate with corporate colors and corporate branding.
Hosts a variety of different online contests - video, audio, photo, essay and any other types of contests that can be dreamed up.
About ContestCore:
ContestCore is an online contest platform that enables businesses and organizations of all sizes to easily create, manage, and promote their own user generated contests and sweepstakes. ContestCore is fully customizable and is ideal for text, photo, and video contests of all sizes. Easy to setup and able to scale to any need - ContestCore is the ideal choice for all online contest marketing projects.
About Digital Operative Inc.:
Digital operative is a boutique digital marketing agency that strives to create innovation, passion and relevance for its client partners through emerging digital platforms - social, mobile and ecommerce. Offering services in the areas of strategy, design, marketing and development; DO continues to work with brands that want solutions born from collaboration and innovation. With offices in San Diego and New York, Digital Operative finds itself working with brands and companies all over the US. Learn more about the team and see what we're working on – http://www.digitaloperative.com
Contact
Adam Lundquist
Director of Digital Marketing – Digital Operative
(619) 795-0630
adam.lundquist(at)digitaloperativ(dot)com
# # #