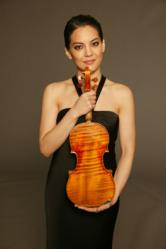 "It is my wish that through music, we can work together to help the people devastated by the earthquake and tsunami." - Violinist Anne Akiko Meyers
San Francisco, CA (PRWEB) April 06, 2011
Concert Violinist Anne Akiko Meyers will perform a Japan benefit relief concert organized by a small group of Japanese working mothers stirred to act after seeing their homeland devastated by an earthquake and tsunami.
Banding together quickly under the committee name "Play for Japan USA," the group has organized the concert for April 29 at Woodside High School's Performing Arts Center. "We had to act in support of the people in Japan, even if we are far away from our home," said Kaoru Miyanouchi, chair of the committee. "We all are busy working mothers, but wanted to help the people in Japan now, when they need our help. I thought of a benefit concert because music resonates with the soul. It also brings cheer and heals people's hearts."
Meyers, one of the world's premiere concert violinists, graciously agreed to perform in the first of a planned series of benefits. "I landed in Japan just hours after the earthquake and was to perform concerts with the Osaka Philharmonic. I was looking for ways to help Japan when my friend Kaoru Miyanouchi contacted me about performing a benefit recital. I leapt at the opportunity to help organize this concert and have been moved by the passion of everyone involved," said Meyers. "I love Japan having spent many summers there as a child and it was always a highlight to visit my relatives there. I have toured Japan extensively for close to 25 years, and it is my wish that through music, we can work together to help the people devastated by the earthquake and tsunami." Meyers will collaborate with pianist, Wendy Chen, who is lending her support. The program will include some of Anne's favorite Japanese music which is available on Meyers' recent CD's, 'Smile' and 'Seasons..dreams'.
The concert is made possible by the fiscal sponsor Kurosawa Piano Music Foundation, and is officially supported by the Consulate-General of Japan in San Francisco. "Play for Japan USA" is also partnering with the American Red Cross, the Asian American Cancer Support Network, the Asian American for Community Involvement, Bloomingdale's Stanford, Capriccio Music, Friends of "Play for Japan USA, the Japan Society of Northern California, the Japanese Art & Cultural Center, the Japanese Working Mothers Association and Wells Fargo. The corporate sponsors include Anova Solutions, Enconcert, Etix, Etix Japan and Yamaha Peninsula Music Center.
All proceeds will be donated to the American Red Cross, Give2Asia and the Japan Center for International Exchange for direct distribution to earthquake and tsunami relief efforts in Japan. The benefit concert will be held at the Woodside High School Performing Arts Center in Woodside, California on April 29, 2011. The doors open at 7:00 pm, and the concert starts at 8:00 pm promptly. Ticket prices start at $35, and tickets can be purchased at http://www.eTix.com. For more information about the concert, visit http://www.playforjapanusa.org.
About Play for Japan USA
Play for Japan USA is a project committee that organizes events to raise money and awareness for the disaster relief effort in Japan. The opening concert project is being organized by the volunteers from the Japanese Working Mothers Association - San Francisco, who wanted to help those in Japan who have been immediately affected by the earthquake and tsunami. For more information about Play for Japan USA and the concert, please visit http://www.playforjapanusa.org or email to playforjapanusa(at)gmail(dot)com.
About Anne Akiko Meyers
Anne Akiko Meyers is celebrated as one of the world's premiere concert violinists. Described as a 'trailblazing violinist' and one who is constantly 'charting her own course', Meyers has been the featured soloist with the world's leading orchestras including the Boston Symphony, Los Angeles Philharmonic, New York Philharmonic, London's Philharmonia Orchestra, NHK Symphony, Orchestre de Paris, and the Royal Concertgebouw Orchestra. An incredibly diverse artist, she has performed and collaborated with Michael Bolton, Chris Botti, Il Divo, Wynton Marsalis, and Ryuichi Sakamoto. Meyers's discography totals more than twenty releases, and her latest CD on eOne Records, 'Seasons… dreams', was at the top of the Billboard charts. Last year Anne was featured on MSNBC's 'Countdown with Keith Olbermann' on a segment that was so popular it was named the #3 story of 2010. In October of 2010, Anne's recordings with the Frankfurt Radio Symphony, Philharmonia Orchestra, and Royal Philharmonic Orchestra as well as several recital programs were released by Sony exclusively on iTunes. Meyers performs on the 'ex-Napoleon/Molitor' Antonio Stradivarius violin, dated 1697. For more information about Anne Akiko Meyers, please visit http://www.anneakikomeyers.com.
# # #