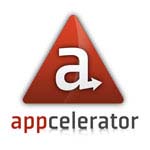 Mountain View, CA (PRWEB) September 12, 2011
Appcelerator®, the leading mobile cloud platform for rapidly developing native mobile, desktop, and tablet applications using open web technologies, today announced a partnership with Barnes & Noble's NOOK Developer program to accelerate the deployment of Appcelerator Titanium™ apps on the award-winning NOOK Color Reader's Tablet™. The partnership will give Titanium's 200,000 mobile developers a fast track to publish apps in the NOOK Store™, available to millions of NOOK Color customers. NOOK App developers have had tremendous success selling to NOOK Color's millions of customers, with many generating substantial revenues.
"Millions of apps have been purchased by NOOK Color customers since we launched NOOK Apps, and our customers are interested in even more," said Claudia Romanini, Director of Developer Relations, Barnes & Noble. "Appcelerator's proven mobile development platform and highly successful open mobile developer community are a great fit for the expansion of our NOOK Developer program. We'll work together to bring NOOK Color customers even more rich and innovative, high-quality NOOK Apps, while developers – through our storefront – will have another strong revenue channel to monetize their apps to our large and rapidly growing audience."
NOOK Color Reader's Tablet™ features a stunning 7-inch VividView™ color touchscreen ideal for reading a wide variety of content including books, enhanced books, immersive children's picture books, interactive magazines, newspapers and more. Built on Android, NOOK Color also offers the most-requested tablet features, including built-in email, an enhanced Web experience and high-quality NOOK Apps. Third-party developers have praised Barnes & Noble's curated app model, revenue-earning potential, and the ease in which customers can find, try, buy and download apps.
Appcelerator developers will now be able to quickly deploy and offer their apps through Barnes & Noble's expansive NOOK Store reaching millions of digital customers. Titanium developers will enjoy expedited submission of their apps for the NOOK Developer program. Titanium developers' submissions will be automatically qualified and fast-tracked for review. Appcelerator has also updated its reference applications, documentation, and platform to easily integrate the NOOK Color SDK into Titanium Studio, Appcelerator's enterprise-grade IDE used by over 1.5 million web developers.
Noted Scott Ellison, Vice President of Mobile & Consumer Platform, IDC Research, "The NOOK proves that there is a large market for quality, reasonably priced Android tablets that have a premium user experience tailor-made to a well-defined audience. With a focus on world-class user experience capabilities, Appcelerator Titanium will provide a solid complement to the types of applications that fit NOOK's lifestyle focus."
"Barnes & Noble has created a highly acclaimed offering and impressive customer base for its Android-based NOOK Color Reader's Tablet," said Jeff Haynie, CEO of Appcelerator. "As the world's largest cross-platform developer community, we are delighted to partner with the NOOK Developer team to help connect Appcelerator's global developer community with Barnes & Noble's digital storefront, driving even more downloads and traction for NOOK Color."
Barnes & Noble will participate at Appcelerator's CODESTRONG 2011 developers conference in San Francisco later this month. The NOOK Developer team is presenting a breakout session on developing apps for NOOK Color on September 19. The meeting will offer Titanium developers a deep dive into leveraging Titanium Studio to develop applications for NOOK Color and cover the entire development process from app creation to the app submission process. The CODESTRONG conference will bring together Titanium mobile developers from around the world for 25+ keynotes and sessions at the InterContinental Hotel San Francisco on September 18-20. For more information about attending, visit http://www.codestrong.com.
About NOOK™ from Barnes & Noble
Barnes & Noble's NOOK brand of eReading products makes it easy to read what you love, anywhere you like™ with a fun, easy-to-use and immersive digital reading experience. With NOOK, customers gain access to Barnes & Noble's expansive NOOK Bookstore™ of more than two million digital titles, and the ability to enjoy content across a wide array of popular devices. The award-winning NOOK Color™ Reader's Tablet™, the best-value on the tablet market ($249), features a stunning 7-inch VividView™ Color Touchscreen to read all of the content you love, shop popular apps, connect via email, browse the Web and more. The NOOK Simple Touch Reader™ ($139), is the easiest-to-use 6-inch touch reader, with the longest battery life of any eReader. In Barnes & Noble stores, NOOK owners can access free Wi-Fi connectivity, enjoy the Read In Store™ feature to read NOOK Books™ for free, and the More In Store™ program, which offers free, exclusive content and special promotions. Barnes & Noble was the first company to offer digital lending for a wide selection of books through its LendMe® technology, available through NOOK eReading products. Find NOOK devices in Barnes & Noble stores and online at http://www.BN.com, as well as at Best Buy, Walmart, Staples, Books-A-Million, OfficeMax, Fred Meyer, and P.C. Richard & Son stores.
In addition to NOOK devices, Barnes & Noble makes it easy for customers to enjoy any book, anytime, anywhere with its free line of NOOK software, available at http://www.bn.com/freenookapps. Customers can use Barnes & Noble's free eReading software to access and read books from their personal Barnes & Noble digital library on devices including iPad™, iPhone®, iPod touch®, Android™ smartphones and tablets BlackBerry®, PC and Mac®. Lifetime Library™ helps ensure that Barnes & Noble customers will always be able to access their digital libraries on NOOK products and software-enabled devices and BN.com. Barnes & Noble also offers NOOK Study™ (http://www.nookstudy.com), an innovative study platform and software solution for higher education, NOOK Kids™ (http://www.nookkids.com), a collection of digital picture and chapter books for children, and NOOK Books en español™ (http://www.barnesandnoble.com/ebooksenespanol), the first-ever Spanish language digital bookstore in the United States.
For more information on NOOK devices and eReading software, updates, new NOOK Book releases, Free Friday™ NOOK Books and more, follow us on http://www.twitter.com/ebooksbn and http://www.facebook.com/nookbn.
ABOUT BARNES & NOBLE, INC.
Barnes & Noble, Inc. (NYSE:BKS), the world's largest bookseller and a Fortune 500 company, operates 704 bookstores in 50 states. Barnes & Noble College Booksellers, LLC, a wholly-owned subsidiary of Barnes & Noble, also operates 635 college bookstores serving over 4.6 million students and faculty members at colleges and universities across the United States. Barnes & Noble conducts its online business through BN.com, one of the Web's largest e-commerce sites, which also features more than two million titles in its NOOK Bookstore™ (http://www.bn.com/ebooks). Through Barnes & Noble's NOOK™ eReading product offering, customers can buy and read digital books and content on the widest range of platforms, including NOOK devices, partner company products, and the most popular mobile and computing devices using free NOOK software.
General information on Barnes & Noble, Inc. can be obtained via the Internet by visiting the company's corporate website: http://www.barnesandnobleinc.com.
About Appcelerator
Appcelerator is the leading enterprise-grade, cross-platform development solution on the market today, with over 1.5 million developers using its software to power over 25,000 cloud-connected mobile, desktop, and web applications used by tens of millions of users every day. The company's flagship offering, Appcelerator Titanium, is the only mobile cloud platform to enable fully native, cross-platform development, from a single codebase, at web development speed for these three platforms. Appcelerator's customers can leverage their existing skills and open, industry standard technologies to decrease time-to-market and development costs, increase customer adoption and revenues, and enjoy greater flexibility and control. For more information, please visit http://www.appcelerator.com.
Appcelerator is a registered trademark of Appcelerator Inc. Appcelerator Titanium is a trademark of Appcelerator Inc. All other trademarks and copyrights are the property of their respective owners.
Press Contact:
(For Appcelerator)
Carmen Hughes
Ignite Public Relations
carmen(at)ignitepr(dot)com
650.227.3280 ext. 101
Cell: 650.576.6444
(For Barnes & Noble)
Carolyn J. Brown
Barnes & Noble, Inc.
cbrown(at)bn(dot)com
212.633.4062
###