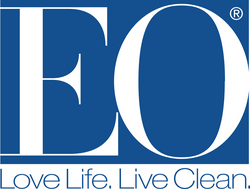 We asked ourselves, why can't the products we use on our bodies be made in the same thoughtful way? And so we named our company EO for the essential oils that were the heart and soul of our formulas.
Corte Madera, CA (PRWEB) April 14, 2011 –
As we celebrate the 41st Earth Day, EO Products shares its insights on the evolution over the last decade of what constitutes natural and organic body care products and how they affect the consumer.
In 1995, when EO Products began, the definition of natural body care was in its infancy. There were a limited number of natural body care brands available. Susan Griffin-Black, EO co-founder and co-CEO, a student of aromatherapy had studied with many of the leading innovators in that field. Susan's deep connection with essential oils and therapeutic products formed the basis of EO Products today. "We wanted to create body care products made with simple, natural ingredients, where the value of each ingredient was considered and chosen based on how it worked together not only with the specific essential oil but with all the other ingredients as a whole, much as Alice Waters had done with a simple five ingredient vinaigrette, said Susan Griffin-Black. "We asked ourselves, why can't the products we use on our bodies be made in the same thoughtful way? And so we named our company EO for the essential oils that were the heart and soul of our formulas."
Companies that were in the natural channel commonly used ingredients that EO Products did not consider safe or natural. EO knew there were much safer ingredients than the often used and highly irritating sodium lauryl and laurel sulfate and phthalate laden synthetic fragrances. At that time, there were multiple barriers to entry for natural products companies; as well as few supplier/manufacturing pipelines in place to create sustainable natural and organic body care products. According to Brad Black, co-founder and co-CEO of EO Products, "The common business choice would have been to outsource the manufacturing. But we knew that was not our choice. We followed our belief that products had to be based on nurturing essential oils and other natural ingredients from the earth in order to be of the highest quality, effective, safe, and affordable. No easy task. It took us three years to develop our first products on our own. Ingredient supply companies were limited in their natural offerings as the market demand was not big enough at that time," Black continued. "It's been a long struggle because the economics in place supported a system perpetuating the use of harsh, chemicals resulting in unnatural products that were not sustainable, transparent or kind to the body."
The maturation of the organic food industry provides a roadmap for the evolution of the natural and organic body care market. According to SPINS, the natural skincare market in the U.S. was $510.2 million in 2010 and is projected to continue with exponential growth through 2011 and beyond. There are 2,500 brands making an organic claim on personal care items, with almost all of these products owned and managed by large-scale consumer packaged-goods companies, with names like Clorox and Colgate, as well as institutional investment firms.
As one of the few remaining independent manufacturers of natural and organic body care products, EO Products has been continuing its leadership role in setting the high standards in the industry, as an example for others to follow. They offer both natural and organic products, only labeling those as organic that meet the USDA Food Grade Standards of what defines organic. According to Jeremiah C. McElwee who heads up the Global Whole Body purchasing team at Whole Foods Market, "When we first introduced EO body products back in the 1990s, body care was a young and emerging category for Whole Foods Market. Over time, we have grown our selection of body care products to include a wide range of natural and organic options for our customers. During this time, EO has continued to innovate and expand its product line, and at the same time it has never lost sight of the most important ingredient: quality. We look forward to continuing our growth and innovation with EO."
Find out more about EO Products belief in transparency, and its focus on consumer education, and earth friendly practices. EO Products is also a certified green business, home to founding members of the Personal Care Task Force, and was one of the first companies to sign off on the Safe Cosmetics Campaign. Tour EO Products' vast database of the latest information at eoproducts.com or chat with representatives on twitter.com/eoproducts or go to facebook.com/eoproducts to learn more.
###