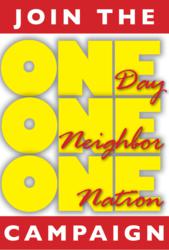 This campaign will strengthen relationships between neighbors and bridge gaps that have caused people to become dis-engaged.
Saginaw, Michigan (PRWEB) May 06, 2011
The neighborhood block is just not what it used to be. Remember when neighbors knew one another by name, didn't hesitate to speak to each other and could even be counted on for that proverbial "borrowed cup of sugar?" Encounters like that have given way to neighbors who live like strangers in the community they share. First names are seldom known, faces are often not recogniized, and neighborhood complacency is common. The recent tragedy involving the death of former actress, Yvette Vickers, is a graphic reminder that neighbors need to look out for one another. She died alone in her home and her remains were mumified before anyone took notice.
Community organizers are looking to initiate the ONE Day - ONE Neighbor - ONE Nation Campaign on Saturday, May 21, 2011 to address this downward spiral. It's time for neighbors to care about each others welfare. The purpose of this effort is to get people outside on their porches, greeting one another and to engage in friendly dialogue that will encourage future interactions.
Cross the Street, Inc., the campaign's Sponsor recognizes the plight of the 'neighbor-stranger' and is expecting this no-fuss strategy to turn neighbors into friends. Since 2003 Cross the Street, Inc. has had an annual meet-your-neighbor day that targeted local communities. With 2011, a new push is being initiated to engage communities around the country with the ONE Day - ONE Neighbor - ONE Nation Campaign. A day for the nation to strive toward building positive neighbor relationships.
On Saturday, May 21, 2011 neighbors are asked to deliberately reach out in friendship to a neighbor on their block or in their community. Specially-made ONE Day - ONE Neighbor - ONE Nation doorhangers are used as an ice-breaker when visiting the home of a neighbor who has up to now, been a stranger. The visits are short, informal and take place on the neighbor's front porch. Neighbors benefit by connecting names with faces, exchanging phone numbers or email addresses and building social networks in their communities.
"We have to be deliberate in our efforts to engage one another on the neighborhood block level' says Rhonda Alexia Webb, founder and director of Cross the Street, Inc. "Without doing something productive we can easily forget the importance of building social networks with our neighbors. Why live with strangers when good neighbors can become allies and resources for our individual and collective benefit."
Tragedy usually causes neighbors to rally around one another as evidenced by the recent tornadoes across the Southeast. Its important to have these connections established before the onset of a crisis. Potential conflicts can be avoided if open lines of communication exist and elderly neighbors in a supportive community are less likely to suffer injury or death and have it go unnoticed.
A recent Bingham Young University study looked at over 300,000 people, across 4 continents, over a 7 year period and concluded that having good friends appears to boost the survival rates of individuals. It stated that social connections to friends, family, neighbors and colleagues improve our odds of survival by 50%.
Change will occur in communities across the nation on Saturday, May 21, 2011. Join the ONE Day-ONE Neighbor-ONE Nation campaign to reverse the prevailing sense of isolation that has permeated neighborhoods
###