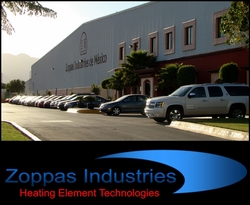 Franklin, WI (PRWEB) April 6, 2011
Zoppas Industries, a global leading manufacturer of heating element technologies, today announced the acquisition of Nova Industries, a leading manufacturer of open coil heating elements. The acquisition adds open coil heating elements to the already existing broad product line, including tubular heating elements, cartridge heating elements, aluminum foil heating elements, etched foil heating elements, heating cable, silicone rubber heating elements, polyamide heating elements, mica heating elements, stitched wire heating elements, crankcase heaters, strip heaters, aluminum finned heating elements, and numerous other heating element technologies.
The purchase of Nova Industries, located in Franklin, WI, further increases Zoppas Industries share in various markets, namely the HVAC market. By acquiring Nova Industries and the open coil heating element technology, Zoppas Industries can now support all of their customer's heating element technology needs in not only the HVAC market, but in the Appliance, FSE, and many other Industrial & Commercial Markets. The combination of Zoppas Industries and Nova Industries will allow the broadest range of heating solutions available from any supplier in their industry.
Nova Industries, which has been renamed to Nova Coil, is now a wholly owned subsidiary of Zoppas Industries. Nova Coil will maintain the entire staff of Nova Industries and continue to operate in Franklin, WI.
About Nova Industries
Nova Industries has been supplying open coil heating elements to the Residential, Commercial, and Industrial markets for over 38 years. Founded in 1973, Nova Industries is a leading supplier to the HVAC market and supplies not only open coil heating elements, but various assemblies (packaged heater kits) to the market offering turnkey solutions to their customers and potential customers. Numerous patents and automated innovations make Nova Industries the market leader. For more information about Nova Coil visit http://nova.sbsisp.com/index.asp.
About Zoppas Industries
Founded in 1963, and headquartered in Vittorio Venetto, Italy, Zoppas Industries is the worldwide leading supplier of heating elements. Offering the broadest product line and with nine manufacturing facilities located in Italy, Brazil, China, Finland, France, Germany, Mexico, Romania, and the United States, Zoppas Industries continues to expand globally in not only physicality, but in support to their customers. Zoppas Industries offers unparalleled service with their continued efforts to position themselves within the markets the supply. For more information about Zoppas Industries please visit http://www.zoppas.us.
For more information please contact:
Zoppas Industries – Heating Element Technologies
Phone: 866-442-3191
Fax: 615-503-1904
Email: zim(at)zoppas(dot)com
###