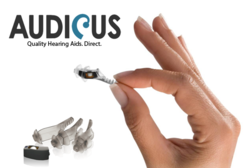 Hearing aids shouldn't cost $6,000 per pair, come in antiquated designs or be tedious to obtain.
New York, NY (PRWEB) June 20, 2012
Audicus Hearing Aids, a novel startup that offers discreet, cost-effective, designer hearing aids launched its new website today. The company's product line revolutionizes the way hearing aids are perceived, by combining the latest in digital sound technology with seemingly invisible designs.
In the U.S. hearing aids cost $3,000-$8,000 a pair, and are seldom covered by health insurance. As a result, only one in four people out of the 35 million Americans who suffer from hearing loss use hearing aids. This high price tag is not driven by the technological complexity of the devices but by the large intermediary costs that occur in traditional retail. The stigma associated with old-fashioned and noticeable devices have also kept hearing aid adoption low.
"The hearing aids industry needs a drastic change. With the technological progress of the 21st century, hearing aids shouldn't cost $6,000 per pair, come in antiquated designs or be hard to obtain," says Patrick Freuler, the company's founder.
Audicus thus offers customers quality hearing devices starting at $399, a 75% price drop, thanks to its direct web-based model. Aimed at being the Warby Parker of hearing aids, Audicus proves that design and high tech can be combined with comfort and simplicity, at an affordable price. Thanks to its Apple-like products that are fully customizable, Audicus appeals to adults with active, social lives who do not want to compromise on their quality of life. Rapid adoption of the internet and e-commerce in its customer segments allows Audicus to provide a convenient alternative to traditional retail. With Audicus' simple 3-step process, customers can browse hearing aids, upload their hearing test results and receive their products in the mail.
While there is a trend toward online retail, Audicus distinguishes itself by offering unique products manufactured in the U.S. and Europe, as well as unparalleled customer service. The site has garnered great customer reviews and aims to be the breath of fresh air that the hearing aids industry needs.
About Audicus
Audicus Hearing Aids is a novel hearing aids concept that offers consumers discreet designer hearing products at affordable prices.