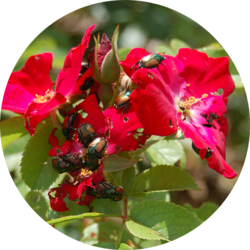 Effective do-it-yourself treatments for Japanese beetles are readily available to homeowners. What homeowners really need to avoid are pheromone traps, because they attract more beetles to the area.
Minneapolis-St. Paul, MN (PRWEB) June 27, 2012
Some of the most widely recognized and destructive insects, Japanese beetles, are now re-emerging across the Midwestern U.S., munching on lawns, ornamental shrubs, roses and trees, with Iowa, Illinois, Minnesota, Wisconsin and Ohio among the most infested states.
Japanese beetles (papilla japonica), are small, copper-winged, green insects with a row of white dots along their sides. They are emerging from the soil right now as adults in the infested areas. Signs of a problem include holes in foliage, leaves that look as if they have been turned into veined skeletons, trees displaying a burnt brown appearance, and lacelike, chewed leaves dropping on the ground.
Adult Japanese beetle females each lay 40-60 eggs per season. Eggs (larvae) are deposited into the soil, where they overwinter as c-shaped, pale grubs that feed on grass roots. These grubs emerge as adult beetles the following season from late June to early July, when they feed, wreak havoc on trees and shrubs, and deposit more eggs.
These beetles feed on just about any foliage, but they are especially attracted to roses, trees like linden, birch, apple, crab apple, cherry, chestnut, plum, elm and Norway maples, as well as grapes, hollyhocks and irrigated lawns. Problems with skunks, raccoons and moles tearing up turf may also be an indication that grubs are present in the soil.
Several do-it-yourself options for controlling adult beetle populations include contact insecticides containing the active ingredient bifenthrin, like UpStar® Gold, or systemic insecticides with the active ingredient imidacloprid, such as Xytect™. More environmentally friendly treatments include bio-insecticides with the active ingredient azadirachtin, like AzaSol, a non-oil based, water soluble powder, effective on a broad spectrum of insects that can be applied as directed to any food crop up to and including the day of harvest.
Products like Xytect can also be used in the fall to kill grubs in the soil to prevent a re-occurrence the following season. High grub populations are often seen in well maintained/irrigated landscapes and yards that border golf courses. Control of Japanese beetle grubs is recommended when populations in the soil are at 6-8 grubs/square foot or more, or if turf damage is noticed.
Director of Science for The Tree Geek, Board Certified Master Arborist Kent Honl said, "Effective do-it-yourself treatments for Japanese beetles, like Xytect, UpStar Gold and AzaSol, are readily available to homeowners. What homeowners really need to avoid are pheromone traps, because they attract more beetles to the area than they control."
#######
About The Tree Geek
The Tree Geek™ is a group of passionate certified arborists and certifiable "tree geeks" dedicated to bringing the latest professional tree health science to the world. They are on a mission to save one million trees and have committed to recommend only tree care protocols and products based in proven research that get predictable results. They are also official sponsors of the nationwide Save Our Shade program, which supports neighborhoods, cities and parks in their fight to protect urban ash forests from the devastation of Emerald ash borer. TheTreeGeek.com website offers extensive information on trees, problems, pests and treatment protocols along with application tools and products used by professional arborists. All products offered include a 100% satisfaction guarantee and free shipping. For more information or to purchase any of the products mentioned, visit their website at http://www.TheTreeGeek.com.