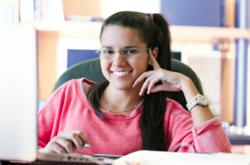 The money you earn from online surveys should always be considered as additional income and is highly unlikely to replace the amount you could earn from a full-time salary
London, United Kingdom (PRWEB UK) 22 June 2012
'From home' work is perfect for retired people and parents for whom flexible hours are a godsend. Students, whose work patterns are irregular, are increasingly well-represented on survey sites – particularly now fees have rocketed.
Evidence proves that at a time of unemployment, the chance to make £5 per survey or win high street vouchers is very attractive. Part of SurveyCompare.net's appeal is its transparency. Only the most reputable market research companies are considered as research partners, so panellists have security assurance.
A/B testing has proved the new SurveyCompare.net website to be:

More intuitive to use
More inviting for first time visitors
In touch with what its demographic wants.
The A/B tester reported the following:
"Surveycompare.net is a site which allows users to sign up for free. The new website offers gives all the information a potential user needs before they decide to sign up to the service. At the very top of the homepage, the company's phone number is clearly visible, providing complete reassurance for those in search of a service they can contact. Additionally, the sign up button is placed in the centre of the page, making it easy for prospective members to join, and the number of Facebook fans is displayed, showing social proof to those considering signing up. At present almost 4,000 people Like SurveyCompare.net.
"As with Survey Compare's previous site, the logos of some of the companies that surveycompare.net works with are displayed. These include highly reputable brands such as Boots, Amazon and Marks & Spencer. There is a greater transparency in the redesigned site though, as a side panel shows some of the survey panels that SurveyCompare.net works with, along with typical payments made to panellists. Below this, another panel links to recent blog posts on related subjects of interest such as 'Stay at Home Jobs for Mums' and 'Online Surveys explained'. The SurveyCompare.net Blog is an essential tool for building its community and keeping members focused. In addition to this, there is another panel linking to user testimonials and Facebook and Twitter pages to prove Surveycompare.net's community is talking among itself, and is constantly growing.
"The new site is uncluttered and easy on the eye, using a relaxing colour scheme of green and turquoise on a white background. It makes good use of tabs, so that when users click on the FAQ section, for instance, a box will drop down with the information they require for each particular question. Only one box at a time will expand, which prevents the screen from becoming too cluttered. Users are encouraged to email SurveyCompare.net or telephone them if they need further assistance.
"Just as SurveyCompare.net has a clear, uncomplicated website design, the message they give visitors is also clear. Rather than leading people to believe that this is some kind of get rich quick scheme, they're honest in their approach, stating that, "the money you earn from online surveys should always be considered as additional income and is highly unlikely to replace the amount you could earn from a full-time salary". This sensible management of expectations adds credibility to the image of a company that is straight-talking and delivers on its promises.
"Further down the page, there are links to other ways of earning online which may be of interest to community members such as typing jobs, data-entry and product-testing. In this section there is also a paragraph about the different methods of payment that users can expect. These take the form of gift vouchers and cash payments via PayPal. This transparency of detail dispenses with the anxiety often felt by people who might be put off joining a site which could require them to give their bank details.
"The final section of the page shows a photo of the SurveyCompare.net team, which is a friendly, personal touch in what is often an impersonal internet world. Social responsibility is also important to SurveyCompare.net: as well as recycling all paper and plastics and refurbishing computer hardware, the company supports good causes, including the Samaritans, Lifelites and Honour Village Cambodia.
"On the redesigned website it's clear to see how Surveycompare.net operates. Such transparency makes signing-up far less of an obstacle. In fact it's refreshing. The site states its panel of consumers will be put in touch with high quality market research companies, providing them with vital intelligence. In return for this intelligence, consumers are compensated with payments and vouchers. Simple!
"The new SurveyCompare.net website provides users and potential users with an accessible interface through which they can to sign up for quality opportunities to provide a useful side income. There are no flashy graphics or annoying pop-ups, just a simple, straightforward explanation of the nature of the company and the work that needs doing. The tone of the writing is friendly yet factual. No false promises, no unrealistic expectations, just a clear, accessible way to learn about one of the largest paid survey communities in the UK."