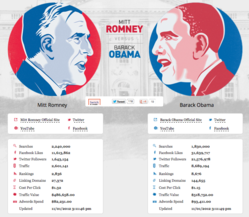 (PRWEB) November 06, 2012
The 2012 presidential race has come down to the wire, and this year promises to be a close race. Many supporters of both candidates have been closely following polling results and putting out information on social media sites and websites to encourage people to get to the polls and support their cause. How much impact has social media and strategically planned internet marketing campaigns had on the election? Which groups are most likely to be affected by the internet in choosing the candidate for whom they will vote?
According to SEO Vote Trends, a few interesting facts emerge when examining internet traffic regarding the two candidates, such as :

Internet searches concerning Mitt Romney outnumber those involving the president by almost two to one, with Romney garnering 2,240,000 and the president 1,830,000.
However, the president has almost three times as many Facebook "likes" as his opponent, with 31,639,717 for Obama compared to 11,613,862 for Romney.
The president has a whopping 21-to-1 margin of Twitter feeds over Romney, with the president showing 21,576,978 Twitter feeds to Romney's 1,643,154.
Romney's 2,836 rankings are about a quarter of the president's 8,676.
Similarly, the president has more than six times the linking domains with 144,655 compared to Romney's 27,372.
Romney seems to be spending more per click at $1.32 compared to the president's $1.15 per click, although Obama has a total traffic value of $518,752 compared to Romney's $486,658.
The Romney campaign has spent $82,231 on AdWords compared to the president's $93,411.
President Obama and Mr. Romney do not even come close in Google trends, a free Google tool that updates users on popular topics. Romney has a few trending spikes on September 3, October 5, October 21 and October 29. These dates correspond roughly to the Democratic national Convention, the first presidential debate, the last presidential debate, and the growing news reports concerning a possible "cover up" over Libya.
The Obama campaign is using diverse keywords, with between 5,000 and 9,000 appearing in Google's report compared to Romney's high of about 2,500. The president received about 9 million unique visitors to his website compared to Romney's 2.5 million. However, the president's referring domains remained steady at around 1,800, while Romney's took a huge jump in September to nearly 7,000.
What does all this data really mean? Tyler Collins, Owner of Orange County SEO™ remarks, "One thing that is clear from the data is that the president's campaign is far more in tune with the 'Twitter' and 'Facebook' generation. The president's campaign has made much greater use of these social marketing tools to catch the attention of voters, primarily those under 30, who regularly use these tools. However, Mr. Romney's campaign seems to be gaining support from other voters who tend to stick to 'tried-and-true' websites and methods as evidenced by his referring domains. Romney's campaign actually spent more per click but less on total advertising than the president's as well, which may indicate that Romney's campaign is targeting more high-end websites with its SEO and sticking to a relatively few SEO terms that business people and those over 30 are likely to use."
This may indicate that the voter turnout among age groups will have a huge impact on the outcome of the election. It is clear that Obama's strategy worked for him in his first election, but will targeting younger voters using heavy social media marketing tactics payoff? You decide this Tuesday by joining Orange County SEO and the rest of the United States at the voting polls.
About Orange County SEO™
Internet marketing company located in Orange County, California. Orange County SEO helps businesses and individuals increase search engine rankings through search engine optimization, social media marketing, and optimized web content for national and local Internet marketing.
Editorial Contact:
Orange County SEO™
16400 Pacific Coast Highway, Suite 218
Huntington Beach, CA 92649
Office: (949) 494-0007