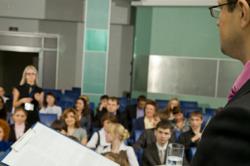 Los Angeles, CA (PRWEB) September 10, 2012
The National Financial Educators Council launches the 'Road to Retirement' financial wellness program for financial professionals and 3rd party educators who seek to deliver financial education in the workplace.
The Road to Retirement financial wellness program provides 3rd party trainers a turnkey system to teaching personal finance. This includes: marketing material, presentations, surveys, student guides and the NFECs' Certified Financial Education Instructor training which is approved by the CFP Board of Standards for 4 hours of general education credits.
With the current economic conditions, employers are reporting that many of their personnel are are struggling with financial issues. According to the 2010 survey conducted by the American Psychological Association's entitled 'Stress in America', over 75% of people report money as being a significant cause of stress. This stress often translates into less productive employees and a workforce that takes care of personal financial matters during work.
"People in the workforce need our assistance," states Vince Shorb of the National Financial Educators Council. "There is a direct correlation between financial stress and productivity. Providing financial professionals the training and resources necessary to help employees improve their financial capabilities helps the worker, employer and financial professional."
Financial professional, insurance representatives and those with an interest in helping improve people financial capabilities through a workplace employee financial education program go through the Certified Financial Education Instructor coursework. The CFEI professional development program provides the instructors with the training and certification that are required to deliver the NFEC's financial literacy curriculum.
The NFEC's mission is to create a world where people are financially capable to make sound, effective financial decisions that improve their lives and the lives of people they influence, all around the globe. The NFEC's collaboration with top financial educators and professionals produces turnkey workplace financial literacy products and services that minimize the time and investment needed to implement an effective financial education initiative.