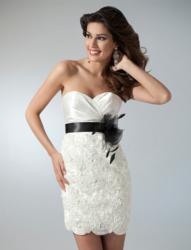 We understand that homecoming, just like prom, is an important event for girls all across the country and here at Promgirl we want to make sure that we are ready to offer them these beautiful designs as soon as they're ready to see them"
Philadelphia, PA (PRWEB) May 23, 2012
The prom season in the U.S. may be winding down but Promgirl.net is gearing up for another big homecoming season and has already begun posting homecoming dresses images for many of their designers' new fall collections. With the last high school proms being held over the next few weeks another prom season has come and gone and while some online retailers are comfortable with resting on their laurels this time of year, Promgirl.net has already begun releasing images and securing stock for the 2012 homecoming season.
Though not as seminal an event as prom, homecoming is a long standing academic tradition that is not to be taken lightly, especially for schools that invest a lot of energy, pride and school spirit into their sports teams. Typically held sometime between late August and early October the events surrounding a school's homecoming festivities culminate in a homecoming dance, which much like prom has become a more fashion conscious event in this age of camera phones and Facebook photo albums.
Promgirl.net was one of the internet's leading retailers of homecoming dresses in 2011, thanks in part to the wonderful designs offered by Promgirl's featured designers Jovani, Tony Bowls, Clarisse, Terani, Scala and Alyce. With demand growing for fashionable yet affordable fall dresses for homecoming events Promgirl.net is looking to capitalize on the success of last year by getting an earlier start on the 2012 homecoming season. Evidence of their effort can already be seen in the fact that Promgirl.net is one of the few online retailers to have already begun posting images of the 2012 fall collections.
"We understand that homecoming, just like prom, is an important event for girls all across the country and here at Promgirl we want to make sure that we are ready to offer them these beautiful designs as soon as they're ready to see them," said Sunny Adrian president of Promgirl.net. "Many of our designers already have images for these wonderful short dresses up on their websites, but until we post them there is all sorts of information that the girls will not have available to them, most importantly price. And as always here at Promgirl.net we will match or beat any competitor's prices thanks to our price match guarantee."
In the age of Facebook it is never too early to begin dress shopping, and many girls from high schools all across the country have taken to the social networking site to post pictures of the dresses and gowns they will be wearing to school dances to ensure that their style remains unique. Promgirl.net's move to transition to homecoming immediately after prom shows that they are keenly aware of this trend and looking to give their customer's the best possible access to dresses from all their talented designers. Promgirl.net is encouraging its most loyal customers to check back daily at this time of year, as each passing day will find new styles on display.
Promgirl.net is an Internet retailer of prom dresses and gowns, formal and cocktail dresses, evening wear and special occasion attire located in Philadelphia. For more information contact Promgirl.net at 1 (215) 843-5402 oe visit them online here.