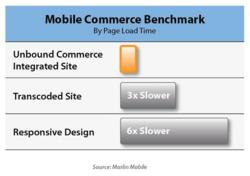 Unbound Commerce integrated sites outperformed other sites in both the average and variation of page download time.
Boston, MA (PRWEB) June 20, 2012
Unbound Commerce today announced it was named by third party mobile performance measurement service Marlin Mobile as the mobile commerce solution for retailers with the fastest page load times. As compared to transcoded ("screen scraped") sites or those built using responsive design, integrated mobile commerce sites built by Unbound Commerce outperformed the field by a wide margin.
The benchmark study conducted by Marlin Mobile measured load times from 500+ Android devices on a variety of Carriers. Marlin Mobile performed this study on integrated, transcoded, and responsive design sites used by top retail brands in the apparel, accessories, and sporting goods spaces.
Taking hundreds of measurements per hour for each site over a week, the study determined that the Unbound Commerce integrated sites significantly outperformed the other technologies in average daily page load time – proving to be 3X to 6X faster. Full test results are here.
Unbound's integrated solution leverages the same technology stack that powers a retailer's ecommerce site and then extends this data into mobile, without screen scraping or repurposing the ecommerce HTML. The result is integrated mobile commerce sites that are proven to load faster.
"Unbound Commerce integrated sites outperformed other sites in both the average and variation of page download time. Unbound also outperformed consistently across carriers and mobile devices," Marlin Mobile reported.
"It is gratifying to see the benefits of our deep, integrated approach proven out by third party testing," said Srinivasarao Nandiwada Unbound Commerce CTO. "We have retailers doing significant volume of web traffic through mobile and pageload speed positively influences conversion rates," he added.
About Marlin Mobile
The data and insights revealed by Marlin Mobile help creative, business and IT professionals monitor, benchmark, and optimize the performance of their mobile application and mobile sites so that a positive customer experience is assured. For more information, visit Marlin Mobile at http://www.marlinmobile.com
About Unbound Commerce
The Mobile Commerce Data Book from Internet Retailer identified Unbound Commerce as the #1 mobile commerce solution provider. Retailers of all sizes choose Unbound for mobile commerce, commerce apps, tablet commerce, and Facebook stores. Unbound's unique integrated approach requires as much or as little IT involvement as desired. For additional information, please visit us at http://www.UnboundCommerce.com.