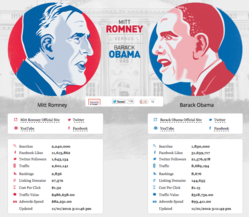 social media trends are early indicators as to which way the public is swaying in this election
Orange County, CA (PRWEB) November 05, 2012
Orange County SEO Expert explains that according to SEO Vote 2012, the amount of money each candidate has spent for Cost Per Click (CPC) Advertising is relatively close. CPC, also known as PPC (pay per click) advertising is a search engine marketing strategy for generating traffic to a website by paying for clicks(visitors). On average, Romney is spending $1.32 per visitor, and Obama $1.15. Looking at total the amount spent on paid advertising campaigns, the President's campaign has spent nearly $10,000 more than the governor's — $93.4K vs. $82.2K — despite his CPC being less. The reason for this difference can likely be attributed to the fact that more people are clicking on Obama's ads than Romney's. How do we know this?
On SEO Vote 2012, there is a graph displaying the number of unique visitors who have visited each candidates website over the past year. Since August of 2011, Romney's website has seen a mild increase in unique visitors, peaking in August 2012 at just above 3.5 Million. In contrast, President Obama's unique visits have seen a sharp rise from April 2012 to August 2012, climbing from about 3 Million unique visits to over 8 Million. A high influx of visits over such a short period of time is likely a good indicator that more people are clicking on the ads for his website, and could be the reason behind Obama's campaign spending more on Adwords - Google's pay per click advertising engine.
Orange County SEO Video
Orange County SEO
Another interesting observation, is that while the President may be ramping up his Adwords spend to capture more traffic to his website, certain SEO (search engine optimization) experts speculate that his website traffic is largely due to his search engine optimization. The metrics provided by SEO Vote 2012 indicate that Barrack Obama's website has 8,676 rankings, while Mitt Romney's website only has 2,836. "Rankings" are top placements in the search engine results pages (SERPS). Tyler Collins from Orange County SEO explains:
"Top rankings in the search engines are largely attributed to the number of incoming links a website has from other web domains on the Internet. Links from 3rd party websites serve as 'votes' in the eyes of the search engines. The more links (or votes) a website has, the more authority is assumed, therefore resulting in higher rankings in the search results pages. As indicated in the SEO Vote 2012 data, President Obama's website has 144,655 links pointing to it, while Governor Romney's website has 27,372. We often see a direct correlation between larger numbers of links to a website and higher rankings in the search engines."
Interestingly enough, the search engines seem to operate much like a Presidential election. He or she (or website) who gains the most votes wins. Apparently, this is why Internet marketers commonly refer to search engine optimization initiatives as SEO "campaigns".
Then, there's the matter of social media, and what role those users might play in deciding the election come Tuesday. According to SEO Vote 2012, the difference in the number of Facebook followers between Governor Romney and President Obama is staggering. As of November 1st, 2012, the governor had amassed a total of 11.6 Million Facebook followers as opposed to the president's 31.6 Million fans. The discrepancy in Twitter followers is just as obvious, with Romney having just over 1.6M followers and Obama having 21.5M. While these numbers alone may be startling, the reasoning behind them may not be.
According to a 2010 infograph from Digital Surgeons, of the then 500 million Facebook users, 64% fell in the $26k-$75k income range. The incumbent president has built his campaign on the idea of rebuilding and investing in the middle class. Given the high number of middle class users who are active on Facebook, it should come as no surprise that the president has earned more followers than the former governor of Massachusetts. The same is true with Twitter. On the same infographic, you can see that 56% of the then 106 million Twitter users fell into that same income range, 26k-75k.
So, how might this determine the outcome of the election?
The infographic also displays that the most active age range on Facebook is users between the ages of 18-34, accounting for 52% of all users. The 2008 exit polls from the New York Times show that 66% of voters who fell in the 18-29 demographic age range voted for Barack Obama over John McCain. If those statistics are any indication, Obama's current Facebook popularity may translate over into big voter turnout numbers come Tuesday.
While it remains to be seen just how much of a role social media users and Internet spending will play in the outcome of Tuesday's election, the trends seen on SEO Vote 2012 give a clear indication of which way people may be leaning. One thing is certain, however, social media and the Internet is on its way to becoming the new battleground for Presidential candidates looking to influence voters.
Editorial Contact:
Orange County SEO
Suite 218, 16400 Pacific Coast Hwy,
Huntington Beach, CA 92649
(949) 494-0007
http://www.orange-county-seo.com
Facebook
Orange County SEO Company