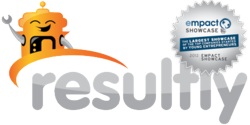 Resultly has always been destined to be a people pleaser. Would only make sense for it to receive a peoples choice award.
Chicago, IL (PRWEB) September 20, 2012
Resultly, today announced that it has won a Peoples Choice Award after receiving over 7 thousand votes and been named to the 2012 Empact Showcase.
Empact Showcase also recognized founder Ilya Beyrak, as being among the United States' "Top Companies Started by Young Entrepreneurs"
"Resultly has always been destined to be a people pleaser. Would only make sense for it to receive a peoples choice award." -Ilya Beyrak
Resultly has given thousands of beta users the tool of efficiency and convenience; the ability to save time from having to do search after search and the assurance that you'll never miss out on something because you forgot to check. It's the best way to stay in the know. Users simply add interests to the site, and as listings or postings appear online that match their interests, they are immediately notified.
About the Empact Showcase
In early 2012, entrepreneurs meeting the minimum criteria from across the country were invited by Empact to apply for the Empact Showcase. The list was judged primarily by revenue, with additional factors such as number of employees, social impact, growth over the past year, and innovativeness coming into play. The official 2012 Empact100 list of the top companies within the Empact Showcase is the determined by the Empact100 Academy who reviewed the entrepreneurs' responses.
Members of the 2012 Empact 100 Academy are among the United States' leading entrepreneurs, and include:

Aaron Batalion, Founder & CTO, Living Social
Gene Landrum, Founder, Chuck E. Cheese
Jeff Hoffman, Founding Member, Priceline.com
Jeff Sandefer, Founder, Action Foundation & Sandefer Offshore
Mike Delazzer, Founder, Redbox
Linda Rottenberg, Co-Founder and CEO, Endeavor
Chuck Templeton, Founder, Open Table
For more information on the Empact100 & Empact Showcase, visit http://www.empact100.com, or connect with the Empact 100 via Facebook at http://www.facebook.com/iEmpact or Twitter at http://www.twitter.com/iEmpact. Please direct any questions to Empact100 co-founder, Sarah Green, at list(at)iempact(dot)com
About Resultly
Resultly, founded in May 2011 in Chicago, allows interests to be followed across the internet in a wide variety of categories, such as Products, Travel, Housing, News, Jobs and more. Resultly uses a patented process to bring results streaming, to the minute, to each of their users according to their indicated interests. The service is free for users and available on web and mobile platforms.
For more information, visit http://www.result.ly
About Empact
Formally known as Extreme Entrepreneurship Education, Empact aims to facilitate a culture of entrepreneurship in communities around the world by exposing young people to entrepreneurship, supporting early stage entrepreneurs and celebrating the vital role young entrepreneurs play in our economy. Empact has worked with over 400 colleges & universities, workforce development organizations, Chambers of Commerce, and Small Business Development Centers to help promote entrepreneurship among aspiring entrepreneurs.
Learn more at http://www.iempact.com