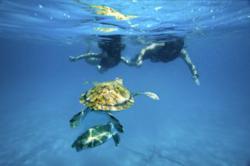 We have coupled design and luxury with the sense of adventure, sumptuous food and personal service, to create this new and exclusive class of holiday experience
Bridgetown Barbados (PRWEB) June 01, 2012
The new marketing initiative starts with a short fun holiday video of catamaran cruising along the west cost, passing some of the most luxurious hotels, to anchor in a cove known for its turtle habitat. We join the guests and crew for rum punch and buffet lunch on the deck of the boat, swim and snorkel over a wreck and take part in hoisting the sails. Sailing back to the Shallow Draft Harbour with Caribbean music, many are dancing, while others sit in the bow feeling the fresh salt air on their faces.
This is the first of a series of "Party Destinations" videos planned for Tiami Catamaran Cruises, which include a video on the Green Turtles, Sushi and Champagne Sunset Cruises and gourmet dining on the luxuriously outfitted Spirit of Barbados Catamaran. Bringing a new sense of elegance to coastal excursions. The Spirit, is one of the most upscale cats in the region. "We have coupled design and luxury with the sense of adventure, sumptuous food and personal service, to create this new and exclusive class of holiday experience" says Denis Roach, CEO of Tiami Catamaran Cruises.
Tiami, the largest company of its type in the Eastern Caribbean, caters to the executive traveler, as well as the fun holiday party crowd with many different cruises. They range from private charters, family cruises, romantic sunset and moonlight cruises and day time snorkeling and swim with the turtles tours.
The Tiami crew is friendly, fun and professional. All crew members are trained and certified by regional authorities in ocean rescue, CPR and first aid. The company operates with the highest health and safety standards as stipulated by European and American tour companies. All boats are required to pass stringent inspection for safety and maintenance on a regular basis.
With Party-Destinations.com marketing, Tiami gets a full SocialIndexEngine promotion, including a 4 min video, a dedicated page on the "Party-Destinations" website, a blog and many direct promotions. PD plans to create several travel videos for its tourism advertisers and sponsors, including another video on the green turtle. This is an endangered species, which is now rebounding off the cost of Barbados as a result of proactive protection enacted by the government of Barbados.
For more information on Tiami Fun Holiday Sailing Cruises, Click Here
ABOUT AXSES
Realholidays.tv and Party-destinations.com are products of AXSES SCI. AXSES is a tourism marketing and development company, helping hotels and tourism operators build sustainable brands and direct business.
AXSES is a leader in marketing for travel. It was one of the first companies to develop a direct bookings application for Facebook, and has consistently been an innovator in all aspects of travel marketing.
In 2011, AXSES was featured by the New York Times in an article on Social Media use in travel.
In 2012 AXSES introduced SocialIndexEngine.com, proprietary technology that has achieved outstanding success in building brands and boosting bookings for hotels and travel companies.
For More on marketing party packages and fun holidays - Click Here