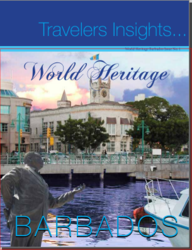 We go behind the scenes and explore the legacy of heritage on its people and culture.
Bridgetown, Barbados (PRWEB) September 28, 2012
In the First Issue of World Heritage Tourism, the magazine features Barbados Heritage Tourism. Declared a World Heritage Site by UNESCO, Bridgetown, Barbados and its Garrison area is the perfect focus of this special volume of Heritage magazines by TravelersInsights Publishing
Issue One focuses on the architecture with a particular emphasis on the British structures when the island was a British colony. Historic photos of the island and its sugar cane trade are juxtaposed with images of modern life. Bridging the two are scenes of the many statues commemorating significant figures in the history of Barbados, including Lord Horatio Nelson who led a defeat of the French invasion.
The British and the African heritage are also explored. While not unique, Barbados does have many reminders of the slave trade, including some slave huts which are still standing. The African Barbados population is now the vibrant political force providing stable and wise government for the Island nation and the economy.
In the early days of settlement, Barbados sheltered Dutch Jewish refugees from Brazil during an inquisition there. They built a synagogue, which is one of the oldest in the western hemisphere.
The multicultural people of Barbados are celebrated in the pages of the magazine as well. Among the striking statues depicted is Errol Barrow who led the country to independence in 1966 and "Bussa" who led a slave revolt.
The magazine also has advice on how to plan a vacation on the island and specific foods to try. The last page contains links and lists of places to get more information about this intriguing community and island nation.
The TravelersInsights team of photographers and journalists is seeking new World Heritage destinations to feature in upcoming issues. With the UNESCO list as a source of hundreds of World Heritage sites, the teams selection criteria is to focus on a culturally and naturally appealing holiday destination.
"Our Travel Journalists seek out exceptional World Heritage Tourism destinations and attractions that enliven your travel and your life. Nature, Culture, History and People Move us to build understanding that can change lives" Says Ian Clayton, CEO of AXSES, publisher of Travelersinsights.
All TravelersInsights publications are about adding a personal insight and perspective derived from a solid understanding and awareness of people and places.
"We go behind the scenes and explore the legacy of heritage on its people and culture". says Clayton.
Destinations, hotels and tourism associations that would like to be featured or to sponsor upcoming issues may contact Ian R Clayton.
For More on TravelersInsights.com go to http://travelersinsights.com/magazines. You may download a Free Copy (PDF) of the Magazine here.
More on Barbados go to Barbados.org
For detail on Barbados UNESCO Designation see http://Barbados.org/WorldHeritage/
World Heritage Tourism - Barbados Video YouTube Heritageholidays Video Channel