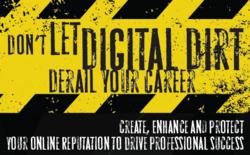 It's important to know what is online about you, but it is equally important to stack the Internet with positive information that you can control.
Norwalk, Connecticut (PRWEB) September 24, 2012
http://www.ExecuNet.com – September 24, 2012 – Executive recruiters have adopted "Googling" as a best practice for job candidates, whereby 90 percent report that they type a candidate name into an online search engine to find more information beyond what is on the executive's résumé. As a result, 50 percent of recruiters have eliminated an executive job candidate because of information they found publicly available on the Internet – up from 26 percent in 2005 when ExecuNet pioneered research in online reputation management, or what they coined, "digital dirt."
Among the "digital dealbreakers" the recruiters found to disqualify executive candidates:

Criminal record
Tweets about his management style
Online profile does not match résumé
Tried for workplace sexual harassment
Pictures or posts on Facebook involving drugs, alcohol, nudity
"Recruiters are not online looking for 'digital dirt' to disqualify candidates; they want to find information that helps draw a complete picture of a candidate and ensure a great hire," said Robyn Greenspan, Editor-in-Chief of ExecuNet. "It's important to know what is online about you, but it is equally important to stack the Internet with positive information that you can control."
More than 8-in-10 (82 percent) of executive recruiters reported that they look more favorably upon a candidate when they find positive information online. In a 2012 survey, 313 executive recruiters ranked the online information that would put candidates at the top of the hiring slate:
Top 3 Things that Improve a Candidate's Job Prospects if Found Online by a Recruiter
1. Subject-matter expertise such as presentations, published articles, etc.
2. Connections with other top executives on a business or professional network
3. Mentions in press releases
Source: ExecuNet, 2012
Contact Robyn Greenspan, Editor-in-Chief at ExecuNet, for the new infographic, Don't Let Digital Dirt Derail Your Career: Create, Enhance and Protect Your Online Profile to Drive Professional Success, at Robyn.Greenspan(at)execunet(dot)com or 203.750.1030 x134
About ExecuNet
Since 1988, ExecuNet has helped business leaders shape positive change to achieve what's next in their individual lives. From its beginnings as a small gathering of executives in Connecticut, ExecuNet has evolved into a private network of over 250,000 senior-level executive members with a belief in the transformative potential of trusted insight, real connections and personal introductions to help them find meaningful new work, advance in their careers, better manage the growth of their businesses, and become high-value leaders. A recognized authority in executive employment, retention and recruitment, as well as human capital trends, ExecuNet keeps its members informed about what's important to them in business and their careers.