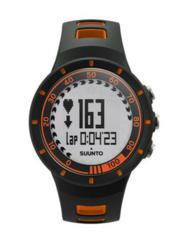 "Without exception Suunto Quest is one of the best looking and most versatile monitors we have tested".
Bozeman, MT (PRWEB) January 04, 2012
Suunto Quest might just be the best looking guy's heart rate monitor on the planet according to the Heart Rate Watch Company. Quest has great every day styling, plus tells time and date - so it may become a favorite everyday watch too!
"We test dozens of heart rate monitors every year," says Rusty Squire, President of the Heart Rate Watch Company. He continues, "Without exception the Suunto Quest is one of the best looking and most versatile monitors we have tested."
The Suunto Quest works with Suunto's Movescount software, which was developed by Training Peaks and is the choice of many pro athletes, plus it comes with a mini-move stick to transfer all data to the training software.
Perhaps one of the best features about all Suunto heart rate monitors is the extraordinary comfort of their dual comfort belt. This chest strap is made of 100% flexible fabrics and Suunto was very smart to use a tiny bit of silicon bead to keep this device from moving when people sweat.
Suunto Quest comes in several versions. The basic version contains the mini-move stick and comfort belt for $249 USD. The next version is the Suunto Quest speed pack, which contains no heart rate monitor strap but does come with both the mini-move stick and a foot pod for measuring speed and distance data for $249. Finally, there is the Suunto Quest running pack which comes with a comfort belt, mini-move stick and a foot pod for $299.
Suunto's new mini foot pod unit is identical in size and shape to both Garmin's and Timex's foot pod units, so it fits nicely into the insole cavity of many running shoes, or in the shoe laces, and at 14 grams it is undetectable. The Suunto foot pod is not cross compatible with the Timex and Garmin units because Suunto uses ANT while Garmin and Timex use ANT+ as their inter-device communication platforms.
This watch will display heart rate, speed and distance information right on the face which makes it ideal for runners, walkers and hikers.
The Quest contains lots of features like customizable workouts, stop watch, interval timers, real-time intensity and it is water resistant to 30 meters. This heart rate monitor also comes in two styles, a black with white trim and a black with orange trim.
For individuals who have avoided heart rate monitors because they look like "workout watches" then it is time to take a closer look at the new Suunto Quest.
###