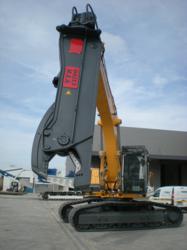 (PRWEB) January 30, 2012
The New VTN Rotobec CI Shears are used in a variety of applications and are available in a wide range of sizes to match the weight of your excavator. They can be mounted in either second or third member mount.
FEATURES:

Structure is made from Hardox 400
Reversible cutting edges for increased blade life
Faster cycle times thanks to the integrated speed valve
The shear structure has been developed using the FMEA and processed with the HDS Heat Treatment System
All CI Shear rotations are equipped with a rotation brake for added functionality.
The CI shears are designed to work well in both overhead demolition and ground based scrap processing. All shears are equipped with a speed valve and all installations are supported directly by VTN Rotobec
We have units in stock now for all sizes of excavators.
For more information on the VTN Rotobec CI Shears please visit rotobec.com or contact:
Mark Shukla
Director of Sales & Marketing - North America
P. (424) 653-9019
E. markshukla(at)gmail(dot)com
###