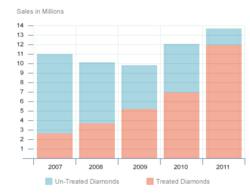 ...assuring the consumer that the quality is every bit as good as other diamonds
New York, NY (PRWEB) January 16, 2012
A Diamond Traces sales analysis has found that clarity enhanced diamonds sales were up almost 80% comparable to 2010, having been one of the big ticket items for this last holiday season. Many customers are turning to clarity enhanced diamonds as a viable alternative to unenhanced diamonds, allowing them to purchase a bigger and better quality diamond for a lower comparable price. A survey done by Diamond Traces shows over 37% of all diamond consumers are open to considering the alternative purchase of enhanced diamonds, an increase of 15% more compared to 2010.
Clarity enhancement was pioneered over twenty five years ago and has now become an accepted method to improve the beauty of a diamond. Fracture filling hides white areas in the diamond which are called "feathers". A glass-like substance is injected into the fracture making it less visible. The diamond is essentially unchanged except for that the "feather" is less visible, improving the stone's clarity by one or even two diamond quality grades. It is only commercially viable to enhance diamonds over 1/5 carat or larger as improvements to smaller stones are negligible to their appearance and price. GIA, the world's foremost authority in gemology, recognizes and educates it's members on clarity enhanced diamonds. Those persons interested can view educational material on the GIA website.
When diamond clarity is graded at SI-2, the diamond after clarity enhancement will be SI-1 or VS-2. "As an example of how durable enhancements are, we at Diamond Traces give every customer a lifetime warranty for the diamond treatment, assuring the consumer that the quality is every bit as good as other diamonds" says sales manager Eddie Morrow. "We use the most advanced type of clarity enhancement process that is called feather filling."
While there is never a guarantee that any diamond will keep its' value, whether enhanced or not, as market value is something that is unpredictable, historically diamonds retain or increase their value. Looking back over the past few years, diamond prices have fared very well compared to inflation and most diamonds have doubled their real value.
It is always important to pay a reasonable price, and today, with access to the Internet, it is very easy to compare prices. Diamond Traces implements various policies to retain customers' trust. Eddie Morrow expands by saying, "We have a lifetime upgrade policy that utilizes 100% of what the customer paid, we give it as store credit for trade-in's or upgrades".
The major advantage of clarity enhance diamonds is the price. Consumers find that for the same quality, for example a 1.50ct , E color, SI1 clarity and Ideal cut diamond based on the GIA chart, it will cost 50% less for a clarity enhanced diamond. That would be a $5250 saving on a $10,500 diamond.
For all the new couples that just gotten engaged and have set their wedding date, Diamond Traces has discovered a free Wedding Countdown facebook app, which is very useful, its free and its fun, found at http://www.facebook.com/tiffanyjonesdesigns.
###