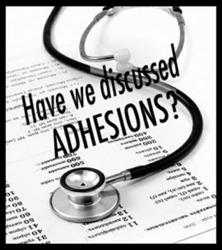 Surgeons have a legal and moral obligation to inform patients of the potential complications of surgery.
(PRWEB) January 06, 2012
Author and patient advocate Karen Steward today shared concerns expressed by the authors of recent review of the surgical consent process. In a review of clinical studies published in the January 2012 issue of The American Journal of Surgery, Drs. J. Mulsow, T. Feeley and S. Tierney of Adelaide and Meath Hospital in Dublin, Ireland found that surgical patients often have poor understanding of the risks and complications of a procedure when they give consent. According to Steward, the review indicates that surgeons may not be meeting their legal obligation to inform patients of the risk of post-operative adhesions. Steward recommends five ways that surgeons can educate their patients about Adhesion Related Disorder, or ARD, before surgery.
In her work as an advocate for patients who suffer from ARD, Steward has interviewed several surgical patients who state that they were not informed of the risk of adhesions before surgery. Her findings correspond with the results of Mulsow's review, which concluded that many surgical patients go into surgery with an inadequate understanding of the risks of a procedure. Mulsow and colleagues recommend that the informational materials given to surgical patients should be customized to the patient's age and education level, and that surgeons should dedicate more time to assessing a patient's level of understanding before obtaining written consent.
According to Steward, the results of Mulsow's review may have serious implications for patients who are consenting to abdominal or pelvic surgery. Adhesions occur in many patients who have abdominal or pelvic surgery, according to the National Digestive Diseases Information Clearinghouse. Contact with the organs during surgery can damage the slick membranes that keep the abdominal and pelvic tissues from adhering to each other. Once the membranes have been damaged, organs may bind together, causing intestinal obstructions, bowel strangulation, fertility problems or chronic pain.
Improving the surgical consent process could help patients avoid the life-threatening complications of ARD by giving them the information they need to seek treatment promptly if they develop symptoms after surgery, stated Steward. Symptoms of adhesions may include abdominal pain, back pain, difficulty breathing, nausea, vomiting or constipation.
"Surgeons have a legal and moral obligation to inform patients of the potential complications of surgery," Steward said. "The medical community needs to remember that the general public knows little or nothing about how adhesions are formed, how they affect the body and how they can be prevented. Assuming that patients will educate themselves on the risk of adhesions without any input from their surgeon is dangerously unrealistic." Today, Steward proposed five ways that surgeons can improve communication about surgical adhesions:
1. Assume the patient has no knowledge of adhesions. Patients facing abdominal or pelvic surgery need to be educated by their surgeon about the causes of adhesions, the methods that are available to prevent adhesions during surgery and the symptoms and potential complications of adhesions.
2. Start educating patients about adhesions from the beginning. Rather than waiting for the day of surgery to present a consent form and request a signature, surgeons should start talking with patients about adhesions in the pre-operative stage.
3. Give the patient choices. Discuss laparoscopic surgery as a minimally invasive alternative to traditional open surgery, which poses a higher risk of adhesion formation. Talk with patients about surgical barriers and other protective measures that may reduce adhesion risk.
4. Establish two-way communication. Encourage patients to ask questions about their surgery and its potential complications. Once you've presented a patient with information about adhesions, give him or her time to review the information and discuss his or her concerns.
5. Listen to patients after surgery. Consider complaints of abdominal pain, vomiting, nausea and constipation as potential signs that a patient has developed adhesions. Adhesions cannot always be prevented, but with prompt medical attention, complications like bowel strangulation and obstruction can be avoided.
Improving the consent process would have several important benefits, said Steward, who dedicates her time to supporting ARD patients and helping them raise funds for adhesion surgery. "If patients were fully informed of the risks and side effects of adhesions before surgery, they could seek treatment sooner, preventing serious complications. Prompt treatment could improve these patients' quality of life and prevent years of unnecessary pain. Open communication with surgeons lets patients participate actively in their medical care instead of turning them into passive bystanders."
Karen Steward is the author of the book Doctors: Bound By Secrecy? Victims: Bound By Pain! Steward's daughter, Melissa, suddenly became ill at age thirteen. Originally diagnosed with Crohn's disease and sent home to live with the excruciating abdominal "attacks," Steward became convinced her daughter had been misdiagnosed. Uncovering the truth behind the illness, however, was a nightmare. Fourteen years passed before Melissa was properly diagnosed, yet a mere four-hour surgery relieved her daughter of the agonizing condition. Steward now dedicates much of her life to ARD awareness.
###