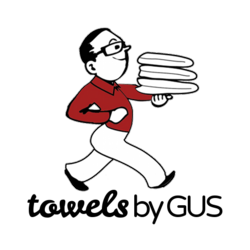 towelsbyGUS.com is designed to give buyers access to all the information they need to select towels.
San Francisco, CA (PRWEB) January 11, 2012
GreatUsefulStuff.com today launched towelsbyGUS.com, a new online boutique featuring a revolutionary way to shop for towels. GreatUsefulStuff.com is a rapidly growing e-commerce site that specializes in helping consumers solve life's organizational problems. With the launch of towelsbyGUS.com, consumers are given the knowledge and comparable data they need to make educated choices about what kind of towels they invest in based on fiber, absorbency, weight, room and color though a unique and proprietary filter that allows consumers to see thumbnails of all similar towels served onto one page, without the nuisance of having to keep multiple windows open - a big plus when comparing similar products.

Free Swatch Program - towelsbyGUS.com is the only online store that gives consumers the resources to choose their investment wisely. Free color swatches isn't just for choosing paint or window treatments anymore. A well-made towel can last decades, so towelsbyGUS.com gives consumers the option of receiving 4x4 samples of a selection of towels to test out in their space.
Absorbency Testing - towelsbyGUS.com independently rates each towel in its collection based on a proprietary rigorous absorption analysis performed in-house to provide consumers with comparable data and to test absorbency claims made by manufacturers.
Free Designer Consultation - towelsbyGUS.com has unbiased expertise available to customers. Providing free customized consultations with a towelsby GUS designer who will help customers navigate the vast selection of towel products to make the best choice.
Unique Color Filter- GUS's shopping system allows shoppers to view up close hi resolution images of all colors available in the color selected, all on one page along with relevant buying information for each towel. Additionally, the GUS site allows customers to shop by bathroom color. If the user decides to shop by room color, our system will select the 4 best matches from our database for that specific bathroom color, giving the customer a choice of the closest match, 2 analagous colors, and one complementary color.
Because the cost of buying a set of new towels can add up quickly, it only makes sense that consumers do their homework before making a big purchase. However, in a market flooded with options, the average shopper may not have the time or patience to study-up on the differences between Supima, Egyptian and Micro-Cotton, to find a towel that will truly meet their needs. That's where towelsbyGUS.com comes into play.
towelsbyGUS.com uniquely simplifies the towel purchasing process by merging the conventional retail experience of being able to touch the products, with the information advantages to online purchases. Based on the concept that consumers will be more satisfied with purchases made based on information, towelsbyGUS.com is an innovator in reducing buyers' remorse for towel purchases.
"Too often, consumers complain that the towel they loved in the store no longer meets their expectations after several washings. After spending 30 years in the home furnishings business, I wanted to share my expertise about fiber coatings and towel construction, among other things, that directly affects towel performance," said GUS CEO Jeff Block. "towelsbyGUS.com is designed to give buyers access to all the information they need to select towels they will be happy with over time."
towelsbyGUS.com launches today. For more information, or to place your first order and experience a new way to buy towels, please visit http://towelsbyGUS.com.
About towelsbyGUS.com
towelsbyGUS.com is a boutique online specialty store for towels that aims to help savvy consumers make educated choices about towels -- whether it is Egyptian, Bamboo, Micro or Pima Cotton -- all with great prices. towelsbyGUS.com is the newest member of the GUS family, a e-commerce company that creates artfully curated, boutique-inspired online shopping experiences. towelsbyGUS.com provides consumers with individualized attention, friendly customer service and product expertise that can't be found elsewhere. For more information, please visit http://www.towelsbygus.com.
About GreatUsefulStuff.com
Great Useful Stuff is a boutique online retailer based in San Francisco that designs and sells a highly edited selection of products that meet our simple criteria: If it's Great + it's Useful = then it's got to be GUS! From stylish gear to organize your high-tech personal electronic gadgets to specialized totes, boxes and bags to conceal your clutter, we have it all! For more information, please visit http://www.greatusefulstuff.com.
Contact:
Sarah Segal
sarah(at)greatusefulstuff(dot)com
415-522-0616
###