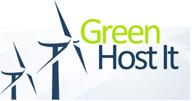 The Internet is a vast frontier within which the entrepreneurial spirit burns brightly.
Austin, Texas (PRWEB) January 11, 2012
S. Rosendahl, CEO of Austin, Texas based web hosting firm, GreenHostIt, has formally announced that GreenHostIt has taken a position in opposition to the Stop Online Piracy Act (SOPA), H.R. 3261.
GreenHostIt CEO stated, "GreenHostIt is in the right place at the right time to help Internet entrepreneurs with the right web-based tools to be successful, while at the same time offering a corporate culture based on principles of environmental protection and entrepreneurial liberty."
GreenHostIt is leading the way among web hosts in anti-SOPA activism. The bill, dubbed "the Internet killer" is poised to radically transform the way the Internet operates within the laws of the U.S. While HR 3261 aims to promote prosperity, creativity, entrepreneurship and innovation by combating the theft the U.S. property, many businesses—GreenHostIt included, feel that the bill is too intrusive and has the potential to cripple legitimate businesses in the name of stopping piracy.
"The Internet is a vast frontier within which the entrepreneurial spirit burns brightly and SOPA, if passed, will infringe on business owners' rights and diminish that spirit," commented Rosendahl. "I really dread getting the court orders that will probably come to us if this proposal passes."
GreenHostIt contends that the legislation equates to censorship or "blacking out" of entire websites by federal judges, with no way for business owners to contest the ruling. The company notes that the current draft does exempt websites that end in .com, .org, and .net, but suggests that many locally-used websites that end in .edu, .tv, or .biz are not protected and could easily be shut down under SOPA.
Opponents to SOPA contend that popular sites such as Etsy, Flickr and Vimeo could all be shut down under this intrusive law. Perhaps more frightening, opponents argue, is the lack of transparency over the process. This is the conclusion of several law professors who have written an article titled "Don't Break the Internet" on SOPA in the Stanford Law Review, as well as noted free speech scholar Lawrence Tribe of Harvard Law School. GreenHostIt shares these concerns.
The Stop Online Piracy Act (SOPA), H.R. 3261, will be voted upon early this year when Congress resumes from recess. GreenHostIt is one of many businesses taking a public stand against the bill authored by Rep. Lamar Smith (R-Texas) who sits on the House Judiciary committee, which is responsible for drafting copyright laws. Smith had initially promised to hold a final vote on his bill as soon as possible in December, but the vote was derailed and postponed until early 2012.
"People who operate websites that will be ordered shut down by uncontested applications will be very frustrated and angry, and for good reason," Rosendahl asserted.
GreenHostIt is changing the Internet one responsible website hosting client at a time with its green hosting plans. To read more about SOPA, visit the GreenHostIt blog.
For more information or to get involved, the Electronic Frontier Foundation (EFF) a vocal advocate against H.R. 3261, has release an open letter from 83 prominent Internet engineers against SOPA. The EFF has also put together an online toolkit to help opponents become more effective activists.
About GreenHostIt
GreenHostIt is an Austin, Texas based web hosting company that is leading the way in green, environmentally friendly web hosting services. We offset all electricity usage with 100% Texas wind energy. With over a decade in the industry, we are a forward thinking company that strives to give back to the community and make the world a greener place. Let GreenHostIt.com help reduce your carbon footprint. More information can be found at http://www.greenhostit.com/.
###