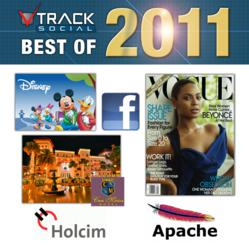 Los Angeles, CA (PRWEB) January 05, 2012
Now that 2011 is officially closed, it's time to announce the Best of 2011 Track Social Awards, acknowledging the brands that stood out and achieved the greatest social media success in a very competitive year. These awards aren't just a matter of insider opinion though. They're backed up by a year's worth of hard data. So after lots of number crunching, fact checking and double-checking, we're pleased to congratulate the 2011 winners.
The big winner this year is Disney, sweeping three of our most coveted prizes including the Grand Award for Annual Social Media Audience Growth. With 23,135 new interactions per day, Disney demonstrated its social media marketing prowess and proved that even the most well-established brands aren't just resting on their laurels. Winning engagement is a daily endeavor and big brands have to work more creatively than ever to remain in the spotlight and stay relevant.
Much of Disney's social media success owes to its Facebook dominance. Disney took the top spot in two of our most important Facebook Awards for 2011. With a remarkable 17,716 New Fans Per Day, Disney wins the Facebook Audience Growth Award, a much coveted marker of online success. They've also picked up the Facebook Likes Per Post Award with a phenomenal 30,291.9 Likes per post.
Facebook snagged itself the Facebook Comments Per Post Award. The social media giant's posts garnered an average of 4,346.2 comments per post, ensuring that the world's most popular social network remains a talked-about and talked-to brand. Keeping users logged-on, engaged, and active is Facebook's bread and butter, so whether those comments were positive, negative or neutral, this level of engagement is what maintaining online relevance is all about.
The prize for Facebook Comments Per Post Per Fan Award – which takes into account the relative size of a brand's Facebook audience – goes to the Casa Monica Hotel in St. Augustine, Florida. With 10.7 comments per post per 1000 fans, the Casa Monica Hotel is a great example of a small, niche brand effectively using social media to achieve big results. This castle-like hotel keeps their loyal fans active by posting information not only pertaining to the hotel, but everything from the happenings in St. Augustine, to Monday Night Football.
Another small brand, Swiss engineering firm Holcim picked up the Facebook Likes Per Post Per Fan Award with 19 Likes per post per 1000 fans. What a surprise for an engineering firm to collect so many Likes and keep their fans engaged, well done Holcim.
2011 was a big year for Twitter. Brands utilized this social media more than ever and Vogue Magazine, ever the trend setter, stood out this year by winning the Twitter Audience Growth Award for picking up 810,060 new followers.
And with the increasing use of Twitter as a critical customer service tool, Continental Airlines (now United Airlines) demonstrated its Twitter skills by picking up the Twitter Retweets Per Tweet Award with 212.0 retweets per tweet. Their consistent and constant interaction with followers has sure scored them a lot of retweets.
Likewise, Apache Software Foundation gets our kudos for winning the Twitter Retweets Per Tweet Per Follower Award. With 3.76 retweets per tweet per 1000 followers, ASF is clearly providing Twitter content its followers are using and passing along.
If there's one thing we can reliably predict for 2012, it's that social media achievements will continue to drive brand success in the twenty-first century. A hearty congratulations to our 2011 winners, and a very social 2012 to all.
About Track Social
Track Social monitors, aggregates and analyzes the Social Media accounts of thousands of businesses across multiple social media platforms. It operates around the clock, collecting millions of data elements from social media platforms such as Facebook, Twitter, YouTube and LinkedIn.
For more information about Track Social, please visit http://tracksocial.com/
About Sprokkit
The maker of Track Social, Sprokkit, is a marketing agency based in Los Angeles, California. It prides itself on fusing the logical with the inspirational, and generally making sense out of a world full of nonsense.
For more information about Sprokkit, please visit http://sprokkit.com/
###