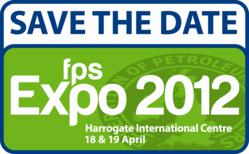 FPS EXPO is the most important show in the oil distribution industry calendar. It brings together the leading manufacturers, distributors, equipment suppliers and software companies. Space is selling fast.
Knutsford, Cheshire (PRWEB UK) 6 January 2012
FPS EXPO the oil distribution industry's annual exhibition organised by FPS (Federation of Petroleum Suppliers) is gearing up apace, with more companies, more technology and more space taken by exhibitors. There are now less than 4 months to go before the doors open to the UK's premier oil distribution industry EXPO, to be staged at the Harrogate International Centre from 18 & 19 April 2012.
FPS EXPO 2012 is taking place at a pivotal time for all those associated with the oil distribution sector. Space is selling fast, and a bumper show is forecast for 2012.
Vanessa Cook, FPS Marketing and Events Manager says, "There is a real buzz about the show already, and exhibitors are looking forward to the 'bounce' in sales that FPS EXPO delivers, particularly as the UK's economic situation improves and we see more capital investment. We've got some big names signed up and some new names to the show and all our exhibitors have committed to bringing more new products and services in 2012 - which is great news for our visitors."
ConocoPhillips is one company who are investing big in FPS EXPO 2012. The company is sponsoring the FPS Golf Day, Delegate Bags and Meet & Greet Staff.
Pete George, ConocoPhillips Marketing Manager, Wholesale says, "We continue to support the FPS EXPO as it is an important event in the calendar because of the pulling power it has across all sections of the industry. It is an event where exhibitors get to meet customers old and new and have a chance to present their company and its products and values. It really enables exhibitors and sponsors to differentiate the service they offer and the style of their company and for ConocoPhillips it is a great opportunity to consolidate our reputation as a leader in one of our key markets."
Vanessa Cook adds: "FPS EXPO is the most important show in the oil distribution industry calendar. It brings together the leading manufacturers, distributors, equipment suppliers and software companies. Space is selling fast despite the fact we are still in the grips of a recession. From previous exhibitions our exhibitors always tell us FPS EXPO is an event where business takes place so they know they get a return on their investment. Already we have sold 80% of the space and have 10 new exhibitors signed up so far this year. All the signs are there for an even bigger and better FPS EXPO ever."
Anyone requiring information on exhibiting at this industry-led event or attending the FPS EXPO 2012, Dinner and Golf Day, can contact Vanessa Cook on Tel: +44 (0) 1565 631313 or Fax +44 (0) 1565 631314 or e-mail: vc(at)fpsonline(dot)co(dot)uk or visit the exhibition website http://www.fpsshow.co.uk
###