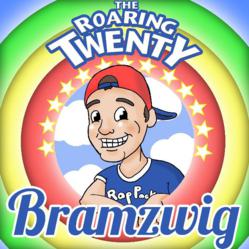 Miami, FL (PRWEB) January 06, 2012
Hip hop artist Bramzwig recently released his [mixtape "The Roaring Twenty." Coast 2 Coast Mixtapes and Mr. Peter Parker present the project, which is now available for free download. "The Roaring Twenty" features tracks like "Glitter Ain't Gold," "The Presentation," and "City Never Sleeps."
Hip hop is currently in the midst of a transformation that will change the genre forever; Bramzwig has taken his spot on the frontline. Listening to the 20-year-old business student-turned rapper, it becomes clear that hip hop music is more appealing to audiences when the artist is intelligent, charming, humorous, and gifted. Bramzwig comes from an upper-middle class suburban family in Westchester, NY and has performed in numerous venues on the East Coast—each one packed with a diverse crowd of hundreds of people. Bramzwig's upbeat music delivers a positive vibe that the youth can directly relate to.
Bramzwig started writing rhymes at the age of 12, but really began to take music seriously by 17. He's inspired by the world around him and translates these surroundings into lyrics which we can all enjoy. Other influences come from his favorite rappers such as Jay-Z, Eminem, Mac Miller, and Wiz Khalifa. He admires how they all were able to innovate the game and "create their own lane." Bramzwig is a highly motivated individual, being able to produce quality music in addition to keeping up with his schoolwork. Music consumes most of his free time and he always keeps working because the competition never sleeps. Bramzwig looks forward to the wave ahead, knowing at the end of the day he'll always be happy pursuing something he loves.
Originally from the Boston area, Minneapolis' Mr. Peter Parker has now cemented himself as the only major mixtape DJ in the area. In conjunction with radio workouts, he hosts his own exclusive mixtape project series: "How Hard Do You Hustle?" and "Grind Season Go-Getters." The official mixtapes, cheered on by the hottest talent in the mixtape game such as Lupe Fiasco, Ice Cube, Wiz Khalifa, J.Cole, Wale, Styles P, Freeway, David Banner, Guru from Gangstarr, and Saigon just to name a few, have created major buzzes in the music business. Mr. Peter Parker is an official Coast 2 Coast DJ, along with his affiliation with Shadyville DJs and Core DJs.
"The Roaring Twenty" is available for free streaming and download at http://coast2coastmixtapes.com/mixtapes/mixtapedetail.aspx/mr-peter-parker-and-coast-2-coast-mixtapes-present-bramzwig-the-roaring-twenty-mixtape.
###