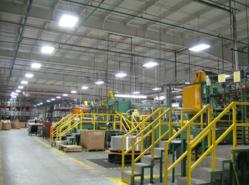 Factories and warehouses realize twice the light using half the energy
Hudson, Ohio (PRWEB) January 10, 2012
Companies and business owners across the country are going "green" in a whole new way by executing strategic energy reduction initiatives. These initiatives are benefiting companies' profit margins as well as the environment. Throughout northeast Ohio, First Energy has issued millions of dollars in lighting rebate incentives to local businesses. And companies that have created sustainable environments are reducing carbon emissions.
Customers of Hudson-based ROI Energy have saved an estimated $1.2 million this year alone with lighting retrofits. Though future energy rates cannot be determined, ROI Energy's clients can anticipate a savings of $12 million over the next ten years.
ROI Energy's customers reduced carbon emissions in excess of 7,800 tons annually, which is equal to 1,422 cars taken off the road or 880,000 gallons of gasoline saved.
"The ability to reduce lighting energy costs by 50% in today's economy while increasing light levels are the biggest benefits. Lucrative rebate incentive dollars paid directly to business and building owners along with the ability to deduct their entire energy reduction project the first year, are icing on the cake," notes Bob Taussig, President of ROI Energy. "Presenting a turn-key energy savings package with an excellent return on investment to top management makes my job extremely rewarding."
The "green" movement and taking steps to create sustainability is an important consideration for corporations and their customers. ROI Energy reports their lighting retrofit installations are up over 300% due to Illuminating Company and Ohio Edison lighting rebate incentives. First Energy provided millions of dollars directly to businesses who agreed to have lighting retrofit projects performed in 2011, in their effort to reduce energy use.
"Without exception, our customers with warehouses and manufacturing facilities were thrilled with the increase in light levels realized from their new, high bay T5 and T8 fixtures, at the same time reducing their energy costs by over 50% year after year, helping them to remain competitive," comments Taussig.
ROI Energy Solutions, Inc. of Hudson specializes in providing turnkey lighting retrofit projects for Ohio area factories, warehouses and distribution centers. Their specialty is retrofitting (converting) industrial, 400 watt metal halide high bay lighting to energy efficient T-5 and T-8 high bay fixtures, typically providing twice the light using half the energy. More importantly, projects are installed without disrupting their customer's production.
For more information email Bob(at)ROI-Energy(dot)com or call 330-931-3905.
###