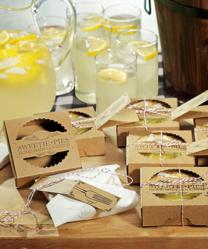 Favor-Days.com is seeing a shift towards practical wedding favors and intricate details, as well as edible and DIY wedding favors.
Lexington, KY (PRWEB) January 11, 2012
Favor-Days.com, an online retailer of wedding favors and special occasion favors, has taken note of several 2012 wedding favor trends to follow in the coming wedding season. Overall, the retailer is seeing a shift towards practical wedding favors and intricate details, as well as edible and DIY wedding favors. Here are some of the 2012 wedding favor trends to watch, according to Favor-Days.com's observations of customer behavior and new products released by wedding vendors:
Laser Cut Details: Laser cut invitations and luminaries were popular in 2010 and 2011 weddings, but in 2012, it's expected to become even more widespread as wedding vendors add laser cut cupcake wrappers, laser cut wedding decorations, and even laser cut place cards to their selections. Laser cut details will be big this year, especially since new technology allows for the designs to get even more intricate and interesting.
Sweet Treats & Baked Goods: DIY weddings have become popular in recent years as many couples look to cut their wedding budgets by doing things themselves. Edible favors, which are practical and usually very affordable, have been staples at DIY weddings in 2011 and in 2012, it's expected that edible wedding favors will continue to surge. Additionally, there is a growing number of couples who choose to give guests individual cupcake mixes, muffin mixes, cookie mixes, or similar baking mixes as favors in lieu of making individual treats.
Black and White Damask Details: Damask has been a beloved fabric for brides for decades. Usually found in table linens, damask is a classic pattern that is known for being synonymous with luxury and style. In 2012, expect to see more black and white damask details emerging as brides look to add drama to their occasions with statement-making pieces that are both modern and timeless. Black and white themed weddings have been on the rise since 2008 and black and white damask wedding favors, invitations, and wedding decorations are just one part of the trend.
Pretty Porcelain: Porcelain favors are also making a comeback, especially when kept simple. Miniature porcelain flower vases, porcelain gnomes, and porcelain dishes are popular choices for 2012 wedding favors, especially if the occasion has a DIY feel or vintage theme. Expect to see porcelain make its way onto wedding tablescapes with simple vases, place card holders, or centerpieces that allow for the flowers or other wedding details to shine.
Useful and Practical Favors: Personalized hand sanitizers, salt and pepper shaker favors, hand warmers, lip balms, and sewing kits are just a few of the practical wedding favors popping up at wedding receptions as many brides look to offer guests favors that they'll actually use. This resurgence of practical wedding favors indicates a shift in the mindsets of brides who are looking to maximize their budgets while ensuring guests receive a wedding favor they'll enjoy.
Favor-Days.com has expanded its selection of wedding favors and wedding accessories to include items that represent all of these 2012 wedding favor trends. For more information, call 1-859-268-0180, email contact_us(at)favor-days(dot)com, or visit Favor-Days.com.
About Favor-Days.com
Based in Lexington, Kentucky, Favor-Days.com is a leading online retailer of wedding favors, bridal shower favors, baby shower favors, and other special occasion favors, as well as decorations. With a wide selection of favors to choose from in colors, styles, and themes to match every event, Favor-Days.com is the place to go when you want to keep up on the latest favor trends. Visit Favor-Days.com to shop the selection.
###