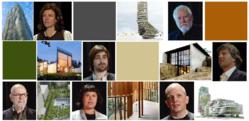 "This is an exciting new chapter in the legacy of the Monterey Design Conference," stated Nicki Dennis Stephens, Hon. AIACC, LEED Green Assoc., Senior Director, AIACC.
San Francisco, CA (PRWEB) January 11, 2012
aecKnowledge and the AIA California Council(AIACC) announce the release of the complete, 7-part Monterey Design Conference lecture series filmed at the 2011 Monterey Design Conference held at the historic Asilomar Conference Grounds in October 2011. For the first time ever, keynote lectures from the renowned event are being made available as online, video continuing education courses that will be available for AIA/CES learning units at aecKnowledge.com.
The series features lectures by some of today's leading thinkers and innovators in the AEC industry, including Jeanne Gang, FAIA, LEED AP, winner of the 2011 MacArthur Fellowship and Peter Walker, FASLA, landscape architect for the National 9/11 Memorial. The courses can be purchased individually or as a series of seven at a 15% discount. Firms interested in purchasing the courses for their staff in bulk may do so at substantial discounts.
"This is an exciting new chapter in the legacy of the Monterey Design Conference," stated Nicki Dennis Stephens, Hon. AIACC, LEED Green Assoc., Senior Director, AIACC. "The conference is known for spotlighting some of the foremost thinkers in architecture, and now this cutting edge knowledge is available online to a national audience and throughout the broader AEC community."
The courses in the series are:

Landscape, Community and Craft by Tom Kundig, FAIA, Principal/Owner, Olson Kundig Architects
Fish, Sticks, Birds and Bricks by Jeanne Gang, FAIA, LEED AP, Principal and Founder, Studio Gang Architects
The 9/11 Memorial and Its Precedents by Peter Walker, FASLA, Partner, PWP Landscape Architecture
The Vertical Farm and the Rise of Urban Agriculture by Dr. Dickson Despommier, PhD, The Vertical Farm Project
No More Play by Michael Maltzan, FAIA, Principal, Michael Maltzan Architecture
Linking Light and Landscape by Brigitte Shim, Hon. FAIA, Partner, Shim-Surcliffe Architects
Architecture and Geometry by Borja Ferrater, Office of Architecture in Barcelona (OAB)
According to Michael Strogoff, FAIA, Founder + President, aecKnowledge, "Capturing these incredible lectures on video provides design professionals everywhere with the opportunity to learn from and get inspired by some of our nation's top design talent." Strogoff also stated, "These courses inspire, engage and teach—from small details to large urban solutions, they illustrate unique ways to transform our built environment—seeing these online is the next best thing to being at the conference."
Each one-hour course earns 1.0 AIA/CES continuing education hours, some certified for HSW/SD credit. Upon successful completion of an online quiz, viewers receive a Certificate of Completion and LUs are reported to AIA.
About aecKnowledge
aecKnowledge is an established web-based, peer-reviewed knowledge sharing platform for the AEC industries headquartered in the San Francisco Bay Area. aecKnowledge enables members of the architecture, engineering, construction and land use planning industries to instantly, simply and seamlessly share unbiased, distilled knowledge and to leverage their collective intellectual capital. With a mission to transform how design and construction professionals throughout the AEC industries collaborate with and learn from each other, aecKnowledge targets the over 6 million professionals and tradespersons throughout the highly-fragmented AEC industry, and allows allied professionals and other knowledge providers to create a strong presence throughout the AEC industry. Visit http://www.aecknowledge.com/ for more information. 
About The AIA California Council
The AIACC represents the interests of more than 11,000 architects and allied professionals in California. Founded in 1944, The AIACC's mission supports architects in their endeavors to improve the quality of life for all Californians by creating more livable communities, sustainable designs and quality work environments. Today, The AIACC is the largest component of the national AIA organization. For more information, visit http://www.aiacc.org.
# # #