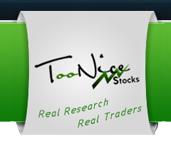 New York, NY (PRWEB) January 13, 2012
TooNiceStocks has uncovered multiple catalysts and corporate developments happening with the company. Often, biotech companies in our opinion have "all their eggs in one basket" and a failure of a late-stage drug is often detrimental to the shareholder value and financials as the development costs of running an additional trial or developing a new product from the beginning are lengthy and expensive endeavors. BioSante, on the other hand, has a fairly deep pipeline with one drug approved and another facing a regulatory decision in the form of a PDUFA on February 14th, 2012. TooNiceStocks also uncovered BioSante financials are also surprisingly strong for a development stage biotech company.
Digging Deeper into the potential pipeline:
TooNiceStocks digs deep into BioSante's pipeline and sees a December 2006 approval of Bio-E-Gel, marketed under the name Elestrin, for hot flashes associated with menopause. The drug was commercially launched in June of 2007 via a partnership with the Kenwood Therapeutics Division of Bradley Pharmaceuticals, Inc. Not only did the approval give BioSante much needed revenue, but it also gave them the experience of developing a drug through clinical trials, the regulatory process and all the way to the marketing stage, which is invaluable experience they will likely need in the future with its diverse pipeline.
The main catalyst TooNiceStocks found for BioSante will likely be in the form of the Valentine's Day PDUFA date for Bio-T-Gel, a testosterone gel for male hypogonadism, a condition in which men don't produce enough testosterone and as a result suffer fatigue, decreased energy, reduced sexual desire and depressed mood. The drug was initially developed by BioSante, but has since been licensed to Teva Pharmaceutical Industries, Inc., a large global pharmaceutical company with a multi-billion dollar market capitalization. Teva is responsible for all Bio-T-Gel regulatory and marketing activities. As a result of the agreement, BioSante received $1.5 million upfront and will receive royalties upon commercialization. The time leading up to the PDUFA date is running out and Microcap, along with Smallcap investors will likely begin planning their next move, if any, on whether this potential gel will be approved.
TooNiceStocks also notes that BioSante owns exclusive development and commercial rights to its pipeline of cancer fighting drugs through its BioSante Immunotherapy drugs. The FDA's approval of Dendreon's Provenge for prostate cancer in 2010 pushed the technology into the spotlight, and BioSante has positioned itself with its own immunotherapy pipeline at differing levels of development. Detailed information may be found on the company's website but a brief overview of this pipeline shows positive results for three of their vaccines in Chronic Myeloid Leukemia (CML), Acute Myeloid Leukemia (AML) and Pancreatic Cancer.
BioSante did have a huge setback with the LibiGel late-stage trials with likely a lot of time and money that could possibly lead to an end to that program. However looking at the overall picture of the company, TooNiceStocks also found that their last quarterly statement noted the company still had about $70 million in cash and equivalents. The continued drama developing with BioSante current share price has generated lots of attention for those seeking the risk to reward ratio. TooNiceStocks in house biotech expert stated that, "With the remainder of their pipeline being so diverse, a current market capitalization at roughly $55 million, the February 14th, 2012 FDA or PDUFA decision date set, BioSante Pharmaceuticals is certainly down but not out. Additional due diligence is still recommended before ever investing in BioSante. Always remember, this is the market and anything can happen, particularly in the biotech sector."
About TooNiceStocks.com - Sign up now for free technical and research reports. Read our daily popular speaking research blogs. We work hard in researching promising companies in all exchanges. Please add or follow us for daily chatter about market activities. Join our premier membership now for our in-depth opinions. Real Research for Real Investors.
TooNiceStocks.com in no way has been compensated for advertising, marketing or profiling BioSante Pharmaceuticals Inc., rather we have initiated our own independent research. The data stated in our research article is derived from publicly disseminated information. None of the profiles issued by TooNiceStocks.com, constitutes a recommendation for any investor to purchase or sell any particular security or that any security is suitable for any investor as these are our opinions. Any investor should determine whether a particular security is suitable based on the investor's objectives, other securities holdings, financial situation needs, and tax status. The operators of TooNiceStocks.com is currently long based on our own research. Examples presented on TooNiceStock.com website are for educational purposes only. Such set-ups are not solicitations of any order to buy or sell. Accordingly, you should not rely solely on the Information in making any investment. Rather, you should use the Information only as a starting point for doing additional independent research in order to allow you to form your own opinion regarding investments as these are our own opinions. Please note well that TooNiceStocks.com employees are not Registered as an Investment Advisor in any jurisdiction whatsoever. For full disclaimer, please visit http://www.TooNiceStocks.com.
###