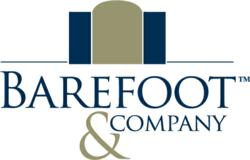 "I believe in empowering our employees and creating a work environment where they are able to make the customer our top priority. Our longevity is a testament to our work ethic and ability to change with the times," said David Barefoot, President
Charlotte, NC (PRWEB) January 11, 2012
Barefoot and Company, Inc. is a rarity in today's tough economy to be celebrating 40 years in business as a turn-key supplier and installer of specialty products to the building industry. The Indian Trail-based supplier was founded in 1971 by Bob Barefoot and continues in the family with Mr. Barefoot's son and daughter as lead officers of the company.
Barefoot and Company originally began as an acquisition of C.R. Mickle, a window screen company, and quickly evolved into a diversified supplier of both window screens and storm doors. As the company grew and expanded its offerings, Mr. Barefoot was always true to his core values.
Honesty, integrity and accountability are the philosophies for which Barefoot and Company was originated and how it still runs today, 40 years later. The company has grown and transformed as the economy has changed over the years since its inception. Barefoot and Company is now a leading supplier of specialty products to contractors, builders and homeowners alike.
"I believe in empowering our employees and creating a work environment where they are able to make the customer our top priority. Our longevity is a testament to our work ethic and ability to change with the times," said David Barefoot, President of Barefoot and Company.
Bob Barefoot's granddaughter, Laura Barefoot, is the company's Director of Marketing and Quality Assurance. "It is my responsibility to make certain we are staying true to our core values and mission statement in every single dealing we have with our customers. We set out to leave a builder or homeowner delighted by the knowledge, service and dedication they experience when they choose Barefoot and Company. That's who we've been for the last 40 years, and that's who we are today," states Laura Barefoot.  
About Barefoot and Company
Barefoot and Company is Charlotte's leading supplier and installer of specialty products to the building industry. They are a single source, turn key supplier of shower doors, mirrors, specialty glass, closet systems, windows and screens, exterior doors, bath accessories, as well as door hardware, locks, blinds, shades and shutters. Since 1971, the NHQ certified company remains committed to quality products, processes and people. For more information, visit http://www.BarefootandCompany.com.
Media Inquiries
Contact: Laura Barefoot
Phone: 704.821.7688
# # #