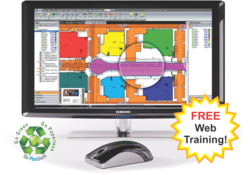 Add a quotableSean Bernat, Partner Integration Manager at PlanSwift said, PlanSwift is pleased to announce this new alliance with RSA and the release of our entirely new Online Takeoff in the "Cloud" solution.
Pittsburgh, PA (PRWEB) January 11, 2012
PlanSwift announces an exciting new partnership with Reprographic Services Association (RSA) coming together to offer the construction industry a better solution to find work, view and print construction documents, perform online electronic takeoffs and get estimating work accomplished. This new partnership combines PlanSwift's amazing takeoff and estimating capabilities with the power of the tools found in RSA's PlanCommand family of products offered to the AEC communities. PlanSwift's new Pay-Per-Takeoff application and traditional software is now being offered through your local RSA member.
As the construction industry fights to regain its lost footing from the economic downturn, builders need every opportunity to drive cost savings and efficiency into their business. The combination of PlanSwift and PlanCommand creates a powerful offering that provides construction professionals an entirely new way to pay for and perform takeoff and estimating activities.PlanSwift's new Pay-Per-Takeoff ™ product allows estimators to harness the full power of PlanSwift without having to invest in the upfront cost of the software.
Sean Bernat, Partner Integration Manager at PlanSwift said, "PlanSwift is pleased to announce this new alliance with RSA and the release of our entirely new Online Takeoff in the 'Cloud' solution. Now in conjunction with RSA, PlanSwift's takeoff and estimating software is being offered as a pay-per-use takeoff solution. Pay-Per-Takeoff can be utilized online in the "Cloud" or through our powerful desktop software. We're extremely excited about all the possibilities of this partnership…and the reoccurring revenue stream it offers to RSA members!"
Larry Morken, Director of Sales and Marketing at RSA said, "We feel our partnership with PlanSwift, integrating their proven and time-tested solutions with PlanCommand, was a natural fit. In these turbulent economic times, we understand cost savings is very important for our customers. With PlanSwift and RSA delivering a technology with a price point of pennies on the dollar, when compared to traditional costs of performing takeoff and estimating activities, we feel this partnership will offer construction professionals a value that has never been imagined in the marketplace."
Morken also added, "PlanCommand has been a leader in helping construction professionals locate projects, provide the required construction documents and project information needed to bid those projects. Now, PlanCommand has even more value in providing visitors access to the great tools available as a direct result of the PlanSwift partnership."
PlanSwift is an industry leader in construction software. The PlanSwift program allows builders to do material takeoffs right on their computer screens using digital plans. PlanSwift eliminates the need for digitizer boards and performing construction takeoffs manually. PlanSwift's easy-to-use, drag-and-drop interface will save the estimator valuable time while improving their accuracy. PlanSwift's estimating software, coupled with the PlanCommand document plan room and distribution systems, creates a one-stop shop for the nation's construction professionals.
About Reprographic Services Association (RSA)
Reprographic Services Association (RSA) is an organization of 80+ reprographic companies with over 190 offices located in geographical markets of all sizes across the United States, Canada and the Caribbean. RSA members have served the AEC communities in their markets for decades by providing plan room services, large and small format printing, color graphics and document management services. Along with serving these needs in local communities, RSA members enjoy the benefit of being a part of the global RSA print network. Construction teams, no matter where their members are located, can count on the RSA network to provide the communication backbone for effective team communications and a network of experts to meet the challenges of project deadlines and requirements.
About PlanSwift
PlanSwift, a subsidiary of Tech Unlimited, Inc., is the nation's fastest growing developer and distributor of digital takeoff and estimating software for the construction industry. The PlanSwift software is specifically designed for, but not limited to the construction industry. We have been positively impacting the construction software industry for the last eight years, providing cutting edge tools utilized by contractors and estimators to easily and efficiently perform material takeoffs and estimate material quantities. More than 11,000 industry professionals in over 10 countries use PlanSwift to help them complete more precise and accurate bids every day.
For more information, please visit http://www.planswift.com or call PlanSwift at 1-888-752-6794 ext 4.
PlanCommand is a registered trademark of Reprographics Services Association.
###