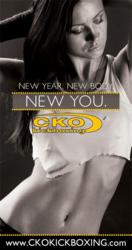 I'm not sure of any other Franchise concept, that has grown primarily on a franchisee's own expereince as a member which had significantly impacted their life.
Hoboken, NJ (PRWEB) January 12, 2012
After successfully growing in New York & New Jersey with 23 locations, CKO Kickboxing's Fitness Franchise opportunity is now available across the country. The company's search for prospective franchisees has received a great push from Entrepreneur Magazine's January edition. In 2011 CKO Kickboxing broke into Entrepreneur's Franchise 500 at number 428 after only 2 years in franchising. In 2012 CKO Kickboxing moved up 68 spots to 360.
A prospective Franchisee does not need to have a fitness background, but a passion for exercise and health is a must. This business model is structured for owner/operators and investors looking to manage-the manager. It is also the perfect opportunity for husband and wife teams.
Due to low start-up costs and a very manageable business model, interest in the CKO opportunity is at an all-time high. With so much potential ahead, strategic growth is planned to expand across the country as a premier Fitness Franchise. In addition this is a very dynamic industry, with members who are looking for an exciting, motivating workout.
Until recently, all of the CKO's franchisees were once CKO members that turned their passion for CKO Kickboxing into a career, says Joseph Andreula, Founder and CEO of CKO Kickboxing. "I'm not sure of any other Franchise concept, that has grown primarily on a franchisee's own experience as a member which had significantly impacted their life."
"I started as a member, and lost over 50 pounds working out at CKO Kickboxing. This impacted my life in many ways, and made me want to give back to the community all that I experienced. I opened my first franchise in November 2010, and just opened up a second location in November 2011." "CKO Kickboxing is my life", says Darlene Pallay, who co-owns CKO Franklin and CKO Augusta with her husband, both in New Jersey.
CKO Kickboxing's concept is addicting and has changed the lives of thousands of people. The classes are co-ed and are designed to allow a member to go at their own pace yet still achieve a challenging and motivating workout. Members have ranged in age from 14 to 85. "You can take an hour class at a CKO location and burn 1000-1200 calories or go to the gym and wonder what to do next," says Rich Rosso, Director of Business Development. "By the time you figure out what to do in an ordinary health club, you will be close to your weight loss & fitness goals and loving what you are doing at CKO".
In order to spread across the country, CKO has added staff, adjusted some of their internal systems, and has refined key training elements. The goal isn't just the growth of the franchise; it is expanding the brand and offering a sound business model. Understanding the value of training and support is key in order to stay ahead of growth when it comes to franchising. The key to CKO's growth when it comes to franchising is providing solid training and support to it's franchisees.
CKO's Top 10 Reasons to Invest:
1. Unique Fitness Concept
2. Training & Support
3. Low Startup costs
4. Financing Available
5. Location Assistance
6. Low Overhead
7. Residual Cash flow
8. Protected Territories
9. Brand Recognition
10. No Experience Required
About CKO Kickboxing:
Born in a warehouse in Hoboken NJ, CKO Kickboxing has grown over the years into a local fitness legend. With 20 years of Fitness experience behind him, Joseph Andreula turned his dream into reality and is now sharing this unique opportunity with others. With 23 locations, this Fitness Franchise is knocking out the competition and setting the pace in this dynamic industry.
In a 60 minute class, members experience a head to toe, full body workout. The classes incorporate all of the essential training elements used in Boxing and Kickboxing. In addition, the workout combines cardio, strength training and calisthenics. All of the exercises are taught by instructors that are extremely motivating and passionate about fitness. Each class is taught with music tracks that keep your body constantly moving. This is a safe, social, fun, healthy way of working out.
Contact: Rich Rosso, Director of Business Development
CKO Kickboxing
800 489 1964
Rich(at)ckokickboxing(dot)com
http://www.ckokickboxing.com
###