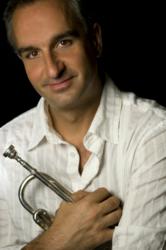 Baltimore, Md. (PRWEB) January 14, 2012
Baroque specialist Nicholas McGegan will lead the Baltimore Symphony Orchestra in a program of Bach, Rameau, Haydn and Mozart on Thursday, February 2 at 8 p.m. at the Music Center at Strathmore and Saturday, February 4 at 8 p.m. at the Joseph Meyerhoff Symphony Hall. The first half of the program features the Baroque-era jewels of J.S. Bach's Brandenburg Concerto No. 1 and Rameau's Orchestral Suite from Naïs. The concert also includes works by two of the most famous early-classical composers: Mozart's Symphony No. 39 and Haydn's Trumpet Concerto, which will showcase the talents of BSO Principal Trumpet Andrew Balio. Please see below for complete program details.
Struggling to manage tensions with his employer's wife and her disinterest in music, Bach began seeking employment outside his post as director of music at the court of Cöthen in the year 1721. Assembling a portfolio of sorts, Bach gathered six of his best concertos and sent them off to the Margrave of Brandenburg, who he met on a harpsichord shopping trip. Each concerto is scored for a unique ensemble of orchestral solo instruments – the Brandenburg Concerto No. 1 calling for double reeds, horns, and strings. Several BSO musicians will be featured in solo roles for this richly colored, energetic concerto.
While French composer Jean-Philippe Rameau is most known for his harpsichord music, opera, and other theatrical compositions, he also did much to advance music theory of the late-Baroque period. Between 1722 and 1764, he dedicated over 20 treaties and almost 1700 pages of writing to his pursuit of music theory, harmony, and pedagogy. A pastorale héroique opera, Naïs was commissioned by Louis XV in celebration of the signing of the Treaty of Aix-la-Chapelle and its powerful overture showcases Rameau's craftsmanship as a composer and music theorist.
At a concert in Venice in spring of 1800, trumpet soloist of the Royal Imperial Theater Anton Weidinger revealed his newly invented, keyed trumpet. To demonstrate its versatility, Weidinger premièred Haydn's Trumpet Concerto, which he commissioned for the event. Considered to be Haydn's finest concerto, this piece for solo trumpet contains climbing half-steps, an extended range and singing legato melodies – all of which would not have been possible to execute with the natural trumpet that preceded Weidinger's keyed trumpet. BSO Principal Trumpet Andrew Balio made his solo debut playing Haydn's Concerto with the Milwaukee Symphony when he was 15 years of age and since then has given solo performances around the globe. Balio was appointed Principal Trumpet of the BSO by Yuri Temirkanov in 2001.
Mystery surrounds Mozart's final three symphonies, of which Symphony No. 39 is the antepenultimate. In an unprecedented creative outburst, Mozart wrote his last three symphonies in just six weeks. The longest and most complex of his symphonies, he seems to have written these works without any commission or external stimulus, though at the time he was in the midst of a financial crisis. Sadly, the beloved Austrian composer never saw the pieces performed in his lifetime.
Nicholas McGegan, conductor
Nicholas McGegan is loved by audiences and orchestras for performances that match authority with enthusiasm, scholarship with joy, and curatorial responsibility with evangelical exuberance.
Through 25 years as its music director, McGegan has established the San Francisco-based Philharmonia Baroque Orchestra as the leading period performance band in America – with notable appearances at Carnegie Hall, the London Proms, the Amsterdam Concertgebouw, and the International Handel Festival, Göttingen where he has been artistic director since 1991.
Also active in opera he was principal conductor of Sweden's perfectly preserved 18th-century theatre from Drottingholm 1993-1996, running the annual festival there. He has been a guest-conductor at orchestras such as the Chicago Symphony, Cleveland Orchestra and Philadelphia Orchestra, St. Louis Symphony, Toronto Symphony, and Sydney Symphony, the New York, Los Angeles, Hong Kong Philharmonics, the Northern Sinfonia, the Scottish Chamber Orchestra, as well as opera companies including Covent Garden, San Francisco, Santa Fe and Washington.
His discography of over 100 releases includes the world premiere recording of Handel's Susanna, which attracted both a Gramophone Award and Grammy nomination, and recent issues of the same composer's Solomon, Samson, and Acis and Galatea (a rarity in that it unearths the little-known version adapted by Felix Mendelssohn).
Nicholas McGegan was educated at Cambridge and Oxford and taught at the Royal College of Music, London. He was made an Officer of the Most Excellent Order of the British Empire (OBE) in the Queen's Birthday Honours for 2010. His awards also include the Halle Handel Prize, an honorary professorship at Georg-August University, Göttingen, and an official Nicholas McGegan Day, declared by the Mayor of San Francisco in recognition of two decades' of distinguished work with the Philharmonia Baroque.
Andrew Balio, trumpet
Wisconsin native Andrew Balio was appointed principal trumpet of the Baltimore Symphony Orchestra in 2001 by Yuri Temirkanov. Prior orchestral appointments include principal trumpet of the Israel Philharmonic under Zubin Mehta in 1994 and the Orquesta Sinfonica del Estado de Mexico in 1990, in addition to the Boston Philharmonic. He has also been a guest soloist with the Bergen Philharmonic of Norway. His solo debut was at age 15 with the Milwaukee Symphony, playing the Haydn Concerto. His teachers include Charles Schlueter, Adoph Herseth, Roger Voisin and Gene Young.
As a soloist, Mr. Balio has appeared throughout Europe, South America, Japan and the United States under such conductors as Zubin Mehta, Yuri Temirkanov, Gennady Rozdestvensky and Gunther Herbig. This past year he has given solo performances in Russia, Italy and Brazil. This coming year he will premiere a concerto being written for him by Sergey Yevtushenko at the Hermitage Museum in St. Petersburg, Russia. The 2005-2006 season saw Mr. Balio perform the premier of Cuban composer Dafnis Prieto's new work for trumpet and percussion; he also combined forces with the computer graphics department of the Maryland Institute College of Art to create a multimedia work based on Norwegian composer Ketil Hvoslef 's Tromba Solo, Toru Takemitsu's Paths and Otto Ketting's Intrada.
Mr. Balio has taught master classes regularly in Russia and Italy, at the Conservatorio Nacional of Mexico, and in Brazil, Chile, Scandinavia, Israel, Japan and the United States. He has recorded for the Sony, RCA, Angel, Phillips and Teldec labels. In 2006, he founded Futuresymphony.org, an online think tank that examines innovative ways of making symphony orchestras financially viable while preserving their artistic mission.
COMPLETE PROGRAM DETAILS
BSO Classical Concert: Bach's Brandenburg
Thursday, February 2, 2012 at 8 p.m. –Music Center at Strathmore
Saturday, February 4, 2012 at 8 p.m. – Joseph Meyerhoff Symphony Hall
Nicholas McGegan, conductor
Qing Li, violin
Jane Marvine, oboe
Sandra Gerster, oboe
Fatma Daglar, oboe
Philip Munds, horn
Gabrielle Finck, horn
Andrew Balio, trumpet
J.S. Bach: Brandenburg Concerto No. 1
Rameau: Orchestral Suite from Naïs
Haydn: Trumpet Concerto
Mozart: Symphony No. 39
Tickets range from $28 to $88 and are available through the BSO Ticket Office, 410.783.8000 or BSOmusic.org.
###