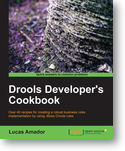 Birmingham, UK (PRWEB) January 13, 2012
Packt is pleased to announce the publication of its Drools Developer's Cookbook, loaded with over 40 independent, practical and easy to follow recipes for creating a robust business rules implementation by using JBoss Drools rules. Written by Lucas Amador, the book also provides an insight into integrating Drools by using popular Java Frameworks .
Drools 5 introduces the Business Logic integration Platform which provides a unified and integrated platform for Rules, Workflow and Event Processing. It's been designed from the ground up so that each aspect is a first class citizen, with no compromises.
The recipes cover various modules like Drools Guvnor, Drools Fusion, Drools Expert, and Drools Planner to help developers with planning, remote execution, and much more. The straightforward recipes will empower readers with the knowledge to implement more drools rules in their projects taking it to a new level. The book also focuses on configuring different ways to store knowledge using Marshallers, and JPA with Spring
Using Drools Developer Cookbook readers will be able to create a more robust business rules implementation, starting with tips on how to write business rules manually, or by using the newest Guvnor rule editors. They will learn to take full advantage of the remote rules execution using the Drools Server and integrate Drools with the Apache Camel Project using the Spring Framework. One will also be able to monitor Drools knowledge bases and sessions using JMX and migrate and discover new features included in jBPM5.
Drools developers keen to improve their current working methods and discover new features to apply to their projects will find this cookbook a useful read. Readers are expected to be familiar with the basics of the Drools platform as well as Java. Now available as print book, eBook and also as part of PacktLib, for more information please visit the book page: http://www.packtpub.com/drools-developers-using-jboss-cookbook/book
Other JBoss Drools titles published by Packt include Drools JBoss Rules 5.0 Developer's Guide and JBoss Drools Business Rules.
###