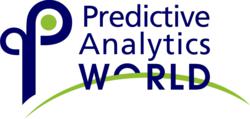 San Francisco, CA (PRWEB) January 16, 2012
Predictive Analytics World (PAW) will offer more than 40 sessions with case studies across a combination of all audience and expert/practitioner tracks include Richard Boire, Partner, Boire Filler Group on Insurance Pricing Models Using Predictive Analytics; Ben Gimpert, Director of Quantitative Analytics, Altos Research on There & Back Again: Model Interpretability in Real Estate Market Scoring; Max Kuhn, Director of Nonclinical Statistics, Pfizer on Right Medicine, Right Patient. Also, Mahesh Kumar, CEO, Tiger Analytics on Prediction and Optimization Models for Online Display Advertising; Scott Nicholson, Senior Data Scientist, LinkedIn on Econometric Applications & Extracting Economic Insights from the LinkedIn Dataset; Rohit Tandon, Vice President of Global Analytics, Hewlett Packard on Institutionalization of Enterprise Wide Analytics to Help Organizations Make Better Decisions, Faster; and James Taylor, CEO, Decision Management Solutions on Five Growth Scenarios for Predictive Analytics in the Cloud.
PAW's San Francisco agenda covers other hot topics and advanced methods include agile analytics, behavior-based advertising, churn modeling, crowdsourcing predictive analytics, econometric indicators, forecasting, risk management, and many other innovative applications that benefit organizations in new and creative ways.
Download the conference preview to see the full PAW speaker line up and array of case studies.
Early Bird pricing ends this Friday, January 20th offering a savings of $400 over onsite registration. Organizations can take advantage of bringing their team and realize additional savings. Each additional attendee from the same company registered at the same time receives an extra $200 off the Conference Pass.
PAW San Francisco, March 4-10, is the business-focused event for predictive analytics professionals, managers and commercial practitioners, regardless of skill level. In-depth predictive modeling and analytics sessions, case studies, and workshops demonstrate how to establish new opportunities, strengthen the impact of predictive analytics deployment and improve marketing effectiveness.
About Rising Media
Rising Media is a global events producer excelling in Internet and technology-related conferences and exhibitions. Rising Media produced events include Data Driven Business Week, eMetrics Marketing Optimization Summit, Conversion Conference, DemandCon, GAUGE, Predictive Analytics World, Text Analytics World, Affiliate Management Days, Building Business Capability, Social Media Economy Days, Web Effectiveness Conference, Search Marketing Expo, SemTech and Social Gaming Summit in the US, Canada, UK, France, Germany, Sweden, Finland and Australia.
Rising Media events provide cutting-edge, practical knowledge for business professionals to improve their day-to-day effectiveness, driving higher returns for their organizations. Attendees learn from leading experts and share knowledge with each other, as well as interacting with innovative vendors in the space. Each event brings together the best, the brightest and the visionary, creating a forum for insight, energetic exchange and informed purchasing.
###