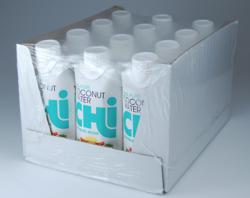 We are thrilled you can now purchase Chi online!
London, England (PRWEB UK) 14 January 2012
Chi Founder Jonathan Newman today announced that Chi 100% Pure Coconut Water will be sold through Amazon and directly through the Chi website. Offering both a 330ml portion size and a 1 litre version, Chi will be sold by the case of 12.
The health benefits of Chi are numerous. Taken from inside a coconut, it is the water (not the milk) that contains twice the amount of potassium than a banana. As a result, coconut water has become a favorite drink amongst athletes and the drink du jour amongst celebs in the know.
"Our coconut water is picked from the sweetest Thai coconuts we could find. It is packed with minerals and electrolytes that hydrate the body quicker than water," Newman comments. "I am a total convert and have been committed to creating the highest quality product I could."
Chi is definitely giving the big players like Vita Coco and Zico a run for their money. With gorgeous eye-catching packaging, and a stand out proposition, it is no wonder Chi is causing such a buzz. "We only use pure coconut water, not from concentrate like Zico," comments Newman. "We also wanted to stand out from the growing market as everyone was called something coco. Chi means LIFE FORCE and that's what our product is all about. The life force that runs through us all. Restoring balance."
Chi has also caught the eye of celebs, with Fantastic Four star Ioan Gruffudd and wife Alice Evans amongst Chi's die hard fans.
Newman also built a custom portal on the Chi facebook page. "We all know how social media has become a part of everyday life, but we feel we want the user experience to be richer, that's why our facebook page offer so much more than just browsing. Without leaving the page, you can purchase our product."
If that's not more, CHI coconut water also donate a portion of every pack sale to the One Seed One life Foundation, a charity providing supplies and supporting charities across Thailand. "We've already made our first visits to the orphanages, and it's great to be in a position to help those less fortunate then ourselves," comments Chi co founder David Mendelsohn, who heads up Chi's Asian operation.
The coconut water industry is set to grow by 50% in 2012, already making in a billion dollar industry worldwide. It shows no signs of being just a passing trend. Chi is definitely climbing that ladder very fast.
To find out more, visit the CHI WEBSITE.
# # #