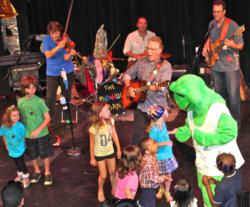 "I've realized my music connects people of all ages, which is what I love," said Sharpe. "Being nominated by your peers is the greatest honor. Winning a GRAMMY® would be an absolute dream come true and one that my entire family would share."
San Jose, CA (PRWEB) January 17, 2012
At any point during a typical day, David Sharpe can be called any number of things: Singer/songwriter. Doctor. Family Guy. The Jimmy Buffet for Kids. Then there is the label that represents everything Sharpe is and it comes from one of his most popular hits "There's Nothing Better than a PapaHug." Now PapaHugs adds a new label that brings with it the highest musical street cred for this very dedicated and inspired musician: GRAMMY® Nominee! David Sharpe & the PapaHugs Band are nominated for Best Children's Album for "Are We There Yet?" for the upcoming 54th Annual GRAMMY® Awards on February 12, 2012, in Los Angeles. (Sharpe and his band will be performing at the San Jose Children's Discovery Museum on Saturday, January 21, at 1 p.m. and 2:30 p.m. and admission to the museum will give you access to the concert.)
"Music and playing guitar were a part of my upbringing," said Sharpe. "I would sing songs to my children and my nephews when they were little and then when I was blessed with three amazing grandchildren I found myself so inspired to write and create my own children's songs because of them. My nephew Jeremy (Hoenig) has been a professional musician all of his adult life and he plays drums in the band. The whole family is nominated as far as I'm concerned, and that means the world to me."
Many of Sharpe's songs are written collectively with his grandchildren. The title song 'Are We There Yet?' was inspired by a road trip they all took together. The three children got in on the recording process as well and can be heard singing back up on the track "Bubble Wrap." The GRAMMY Nominated album was co-produced by his nephew Jeremy Hoenig, who also plays drums in the band, and Tim Volpicella.
Although Sharpe had been a musician his entire life, it wasn't until he had grandchildren – and all of his friends were having grandchildren – that he began thinking of making music professionally. When all of the families would get together, Sharpe would perform a few of the hundreds of songs he had written. Everyone encouraged him to get into the studio and make these songs official. Which is just what he did, and now he is a GRAMMY® Nominee, the highest accolade in music because it is voted on by other music makers.
"My music connects people of all ages, which is what I love," said Sharpe. "Being nominated by your peers is the greatest honor. Winning a GRAMMY® would be an absolute dream come true and one that my entire family would share."
For more information about David Sharpe and the PapaHugs band, visit http://www.davidsharpemusic.com. Dr. Sharpe is a well-respected podiatrist in the San Jose area when he's not making or performing music for kids of all ages.
The 54th GRAMMY® Awards Air on CBS, Sunday, Feb. 12, 2012 at 8 pm./7c.
###