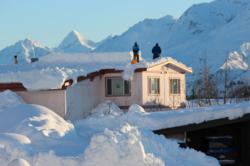 We've never seen it this deep, this early. It's insane.
Valdez, AK (PRWEB) January 16, 2012
Amid one of the deepest winters on record, in a town already known as the Snow Capital, the premier heliski operator in Alaska's famed Chugach mountain range is offering a value package designed to make it even more appealing to make this year THE year for skiers and snowboarders take their dream heliski vacation.
"We've never seen it this deep, this early. It's insane," said big mountain steep-skiing icon and H2o Guides founder/owner Dean Cummings, who has been guiding heliskiing in the area since 1991. "We've got such a huge snowpack, it seems only right to try to make it more accessible to all the snow-starved ski area season-pass holders in the some of our favorite places."
Valdez, year-round home to Cummings and headquarters for his family-run H2o Guides, has been getting pummeled with snow that's so relentless, the town elementary school closed for fear the roof might collapse. With no place left to clear snow from the streets, snow removal equipment is dumping loads of the white stuff into Prince William Sound. According to the Anchorage Daily News, "The record snowfall for Valdez, 560.7 inches, was recorded in the winter of 1989-1990. The current snowfall is on track to eclipse that."
The Valdez Epic Deal offers special pricing on a heliski/ski package to any powder-craving ski area season pass holder in California, the Central Rockies including AZ, CO, NM, MT, UT, WY, and the East Coast. The promotion is also available to former guests who are already in the H2o Guides database.
The Valdez Epic Deal includes the following: Discounts on multi-day heliski packages the first two weeks of March and Cummings' signature hybrid powder skis that carve from H2o Outdoor Gear; $550 for skis regularly priced at $899. Valdez Epic Deal customers will also get a free souvenir hat and t-shirt. Savings total nearly $600 for a dream heliski trip and skis.
Discount heliski packages are limited in number and available on a first come, first serve basis the first two weeks of March as follows: Discount skis, free souvenir hat and shirt plus 10 percent off a 5-day/7-night trip or 5 percent off a 3-day/5-night package trip. To take advantage of this offer, call 907.835.8418 and be sure to mention "Valdez Epic Deal."
Founded in 1995, H2o Guides is the longest-running heli ski business under one owner in Alaska and the only company based in Valdez year-round. Guests of H2o Guides enjoy premium all-service customer service and unparalleled terrain. H2o's permits through federal land managers give guests a gateway to over 2.6 million acres, more than any other operator in the world. With nine unique staging locations, H2o Guides accesses good snow when other operators cannot. The company's safety record is unmatched. For more information about H2o Guides visit their website, http://www.H2oGuides.com
###