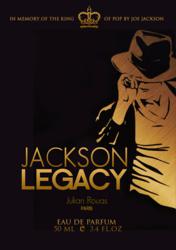 Los Angeles, California (PRWEB) January 18, 2012
Please Join Joseph Jackson, along with family and friends at the Launch of the JRP/Jackson Perfume Collection on January 21st, 2012.
"I would like to thank friends and fans all over the world for loving and caring for me and my family, especially over these last few years," said Joseph Jackson.
"I am happy that the launch of the JRP/Jackson Perfume is here and that Latoya and Jermaine, as well as, others will come to the launch to celebrate with us," remarks partner Julia Rouas.
Sigal Benabou designs one-of-a-kind, interchangeable swimwear, creates uniquely fashionable bags and accessories, and designs extravagant fashion shows and events.
This month Sigal is one of the event producers for The JRP/Jackson Perfume Collection launch in Las Vegas. Sigal is responsible for all of the event coordination and the spokes models that will be holding the bottles while giving out samples of the perfume. She also designed one of a kind dresses for the models that are adorned with Swarovski crystals.
Samples of the collection will be passed out at the Fashion Show Mall. Here is a brief description of some of the ingredients.
JRP-Jackson's "Legend": A floral harmony of California lilac, jasmine and rose of Grasse, with a hint of mandarin and bergamot essential oils from Italy. The fruity note stems from raspberry and is supported with a musky base note, slightly vanilla yet heavily wooded with tonka bean and sandalwood.
JRP-Jackson's "Legacy": A sparkling blend of mandarin, lemon and bergamot essential oils from Italy with a few drops of baiser rose wrapped in a woody heart of Canadian pine, supported with rose and jasmine of Grasse and strengthened with French lavender and American cedar. The base note is heavily musky, vanilla and woody with patchouli essential oils and labdanum absolute.
The perfume has already been selling in the Fashion Show Mall in Las Vegas, which is exciting news for the JRP/Jackson Perfume Collection.
The event will take place next to Neiman Marcus
Media Arrival: 4PM
Event: 5PM-8PM (reception) will be on the main floor
For information please contact:
thepublicityteam(at)aol(dot)com 562/458/6700
Please visit the website to see more detailed information
# # #