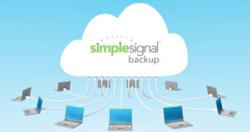 There are some major distinctions between our enterprise level backup service and the typical stand alone consumer backup products on the market
Dana Point, CA (PRWEB) January 18, 2012
SimpleSignal, Inc., the leading cloud-based Unified Communications and Collaboration provider for small and mid-sized businesses, today announced the launch of its managed online data backup and storage service, adding to the growing suite of cloud-based unified communications services.
SimpleSignal Backup was a natural addition to our cloud offering as we have become trusted suppliers to tens of thousands of users of mission critical hosted services such as hosted PBX, HD audio and video conferencing and call recording," said Dave Gilbert, CEO of SimpleSignal. "Because of our growing knowledge and experience with helping companies implement disaster recovery programs within their communications technologies, it became evident there was a need for an easy to set up and use, cloud-based data backup solution."
SimpleSignal Backup provides secure, dependable online data backup and storage. Client data is stored in encrypted form using 256 bit AES encryption at two, Tier-4, SAS70 Type 2 certified, online data backup centers, located hundreds of miles apart from each other. (256-AES was approved by the United States National Security Agency (NSA) for use in encrypting the U.S. government's documents classified "TOP SECRET"). Each data center has 24/7 monitoring and advanced security measures such as biometric controlled access as well as backup generators and redundant connections to the Internet.
"There are some major distinctions between our enterprise level backup service and the typical stand alone consumer backup products on the market," said Michael Sterl, VP, SimpleSignal. "Their solutions are completely self-managed, while ours is a comprehensive service. Managed online data backup as a service means we help implement, set up, and constantly monitor a client's systems to make sure data is protected at all times. In the event of a disaster SimpleSignal Backup would have data restored within a matter of hours. With a consumer product, clients have to restore all the data on their own which can take days, weeks or months. Plus we can add contingency services like local backup to an installation, which no consumer product provides."
Some key features include:

Automatic - Backups begin automatically according to a user definable schedule.
Off-Site - All backups are sent to servers in secure off-site locations.
Custom Schedules - Backups can be scheduled to run as often as clients wish.
Scalable - No expense for new hardware when storage needs grow.
Unlimited Backup Sets - Create multiple backup sets each with their own schedule and retention setting.
Restore Files 24/7 - Recover a single file or entire system whenever needed.
Centralized Control - Manage multiple SimpleSignal Backup installations from one computer on the client's network.
Large File Support - Backup files of any size including multi-gigabyte files.
Works in the Background - Seamlessly backup files while they are open and in use.
Bandwidth Efficient - Only the blocks of data that have changed need to be uploaded to the SimpleSignal Backup servers.
For more information about SimpleSignal Backup, go to http://www.simplesignal.com/backup.php
About SimpleSignal
SimpleSignal is a hosted PBX and cloud-based Unified Communications service provider, delivering IP phone applications and cloud-based services to tens of thousands of satisfied business users throughout the US and Canada, with a growing list of multi-office clients in many International locations. In addition to its flagship cloud-based PBX phone offering, SimpleSignal provides a growing suite of unified communications solutions including mobile integration, integrated voice-powered applications and cloud services like backup and storage, audio and video conferencing, call recording, and desktop collaboration tools. SimpleSignal has created some of the most innovative and advanced voice "mashups" in the communications industry, leveraging voice technology for Facebook, LinkedIn, and Salesforce.com, among others. SimpleSignal has offices in Denver, CO, and Dana Point, CA. Find us on the web at http://www.simplesignal.com. For sales, call 866-434-4404. Read our blog: http://www.simplesignal.com/blog/.
Media Contact: Donna Sudderth, donna(at)simplesignal(dot)com, 949.777.5150
# # #