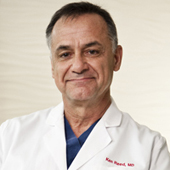 The Reed Procedure ™ has a documented success rate of 80-99% in controlling severe head pain associated with migraines.
Dallas, Tx (PRWEB) January 18, 2012
Reed Migraine Center in partnership with Neuro Stim Technologies announced today that Dr. Ken Reed, founder of the Reed Migraine Center, will be a guest on the popular CBS network medical talk show The Doctors on Wednesday, January 18, 2012. The Doctors TV Show invites top physicians to speak about a variety of health topics. Dr. Reed's pioneering and Cephalalgia award winning research in neurostimulation has established him as a leading authority in intervention pain management for the relief of migraine symptoms. His specialized technique, the Reed Procedure™, involving both the occipital and supraorbital nerves, has a documented success rate of 80-99% in controlling severe head pain associated with migraines.
Dr. Reed and the Reed Migraine Center recently launched a multi-city seminar tour, Get Your Life Back: The Reed Procedure™, to raise public awareness of his revolutionary new medical procedure that offers hope to chronic severe migraine sufferers. The next free Get Your Life Back seminar will be in Dallas, TX on January 19, 2012 at 6 p.m. at the Forrest Park Medical Center and at the Residence Inn Times Square on January 20, 2012 at 7 p.m. in New York City. Joining Dr. Reed will be patient ambassadors and partner physicians that have been specially trained in the Reed Procedure™, a medical procedure Dr. Reed pioneered. For additional dates and locations please visit http://www.ReedMigraine.com.
The free seminars include how the procedure is performed, why it works, candidate qualifications and an opportunity to get questions answered by migraine pain specialists. "It's a new medical procedure, not a drug, not a relaxation technique and not a new vitamin regimen, while those treatments can help some migraine sufferers, the Reed Procedure™ can help people who have not been able to find relief," Dr. Reed says.
About 50 million Americans suffer from chronic migraines, 75 percent are women. Chronic headache disorders are among the top 20 causes of disability in the US according to the World Health Organization (WHO) and are responsible for more than $31B in economic costs in the US annually.
For more information or to register for a seminar visit http://www.ReedMigraine.com or call 855-5MIGRAINE.
About Reed Migraine Center
Reed Migraine Center partners with the most respected pain management physicians in the world to provide individuals who suffer from chronic migraine headaches with access to the most effective pain control treatment available. Reed Migraine Center offers the International Headache Society Cephalalgia Award winning minimally invasive Reed Procedure™, to help migraine sufferers enjoy a better quality of life. The partner physicians of Reed Migraine Center continue to engage in pioneering pain management research to find new and more effective ways to control chronic migraine headaches and someday end migraine pain permanently. To learn more about Reed Migraine Center and the Reed Procedure™, visit http://www.ReedMigraine.com
About Neuro Stim Technologies
Neuro Stim Technologies is a marketing agency specializing in raising the awareness of innovative technologies and advanced procedures that improve the quality of life of those that suffer from chronic pain.
###