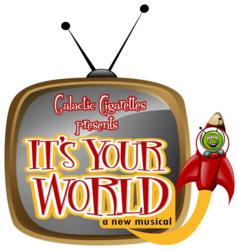 Washington D.C. (PRWEB) January 18, 2012
Now announcing Galactic Cigarettes Presents: It's Your World, a satirical comedy set in 1950s New York City, and the show's Facebook page, http://www.facebook.com/pages/Galactic-Cigarettes-Presents-Its-Your-World/307351179307835, which keeps fans up-to-date on the latest happenings of the show. "The delightful musical from the minds of Paul Eiseman and Adam Levowitz is sure to thrill audiences when it debuts next year" says Alexander Lovell, Social Media Manager. The Facebook page provides information and news.
Fans can get plugged into the inner circle of this hilarious show by clicking "Like" on the new Facebook page. Once you "Like" the page announcements, contests and news will be at your fingertips around the clock. You can be the first to know when the show dates are released.
Galactic Cigarettes Presents: It's Your World is one part satirical comedy and one part moral dilemma, following the lives of two regular Americans as they get the opportunity to participate in a game show where the prize is an unbelievable $100,000. The two main characters, a school teacher recently returned from Korea and a shy girl from a Manhattan typing pool, are given fame and the possibility of fortune when they become the newest contestants on Galactic Cigarettes Presents It's Your World!. And just when you think everything might just be as squeaky clean as this depiction of the nostalgic era of 1950s America, our beloved characters learn that they are participating in a fixed competition. What will two basically good, honest, hardworking Americans do when faced with the choice between the American dream and taking the moral high ground and exposing the fraud?
It is worth the price of a ticket just to see this display of a simpler time come to life before your eyes. Audiences will be rewarded with catchy songs, 50s commercial spoofs, and a world that is every bit as hip as you imagine it was. The moral dilemma serves to make this satirical comedy more endearing rather than tarnish the 1950s charm. A must see for anyone who wants to be transported to another time, even for just an evening.
Galactic Cigarettes Presents: It's Your World is from the amazing duo of Paul Eiseman, http://www.harrisonhuntmysteries.com/about/, and Adam Levowitz, http://www.adamlevowitz.com, who have worked together on numerous projects including the retelling of Shakespearean classics A Midsummer Night's Dream and The Tempest.
This satirical comedy delivers on every promise – the nostalgia of squeaky clean 1950s America and the underlying problem created when morality is challenged.
###