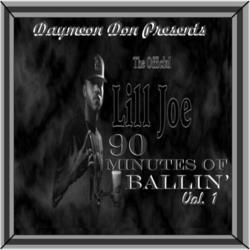 Miami, FL (PRWEB) January 19, 2012
Rap artist Lill Joe recently released his mixtape "90 Minutes of Ballin." Coast 2 Coast Mixtapes and Daymeon Don present the project, which is now available for free download. "90 Minutes of Ballin" features tracks like "2 Minute Tantrum," "4th Street Bloodline," "Call Me," and "Did It On Em."
Lill Joe a Mt. Airy, LA native, feels anything but little these days. While his southern fans will recognize him for his hardcore street lyrics and raspy voice, anyone can clearly see Lill Joe has faced and tackled his shared of obstacles. The now 27-year-old rap artist has been deep in the game since 1998. His first appearance was in 1999 briefly as a member of the group First Born. At this time he says, "I became caught up in the life. I did what everybody in the hood does and rap didn't pay." Kendrick "K-Love" Love, one of the founders of the rap group Quarter Keys and a longtime friend, reintroduced Lill Joe to the music scene, but died shortly after in December 2001. "After K-Love died it seemed like I never left the studio," Joe says.
Street life was still calling and Joe couldn't ignore the call. So when he moved to St. Mary, GA in 2003 looking for a change of scenery, trouble soon followed. The Georgia Department of Corrections was his next stop, unfortunately, and remained his home for the next four years. "While in prison, I rapped everyday and met a lot of talented guys. Too bad we was all locked up," he says. Rap earned him respect when he would freestyle with the other prisoners in the "yard." Upon release in 2007, he returned to "the boot"— Louisiana. Back home, he formed kind of a brotherhood with a producer named Green Digg and his group the Grine Thuggas.
After Lill Joe reunited with the other Quarter Keys members, they quickly put out a CD produced solely by Green Digg called "We Aint Playin." As things started to look up for Lill Joe musically, his troubles with the law came up again. Joe was arrested for attempted second-degree murder in February 2009. Feeling like his career and life were all over, he did the only thing he could do...pray. Sure enough in 2010, he was released from the St. James Detention Center and was ready to hop back into Grine's studio, just like before, but now with a new deal with Stand Alone Records Inc. CEO Daymeon Don has taking Lill Joe into the fold and has him focused on his music career.
"90 Minutes of Ballin" is available for free streaming and download at http://coast2coastmixtapes.com/mixtapes/mixtapedetail.aspx/daymeon-don-presents-lill-joe-90-minutes-of-ballin
###