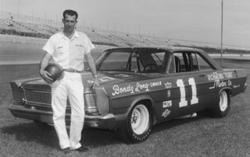 Seeing the heavy equipment begin carving out the new track at this historic facility is incredible.
Shelby, NC (PRWEB) January 20, 2012
Ned Jarrett returns to Historic Cleveland County Fairgrounds Speedway in Shelby, NC on April 21st, 2012 to wave the green flag as Grand Marshal for the RacersReunion® Vintage Championship Series (VCS). This event will mark the return of racing at this historic venue that once provided racing excitement and entertainment for the surrounding area. The track referred to by many in its heyday as the Shelby Fairgrounds Speedway has been silent for over 30 years.
The Cleveland County Fair and its promoters have teamed up with RacersReunion® to host the inaugural VCS event. This event tagged as the 2012 North Carolina State Vintage Championships will provide several divisions of vintage racing and exhibitions on a newly constructed ¼ mile dirt oval utilizing a portion of the original race track. The VCS event will serve as the kick-off for a 20-race weekly racing schedule at the speedway.
"It was an awesome sight to see the heavy equipment begin carving out the new track surface on this historic site," said track manager, Michael W. Smith. "To see race cars back at this facility has been a dream of mine since I move to the area. This is proof of what can be accomplished when like-minded people dare to dream and act on their dreams. We're very excited to have RacersReunion® and their event kick off the first racing season here in over 30 years."
The VCS event is part of the Cleveland County Fair's 2012 "Spring Into the Fair" which runs April 20, 21, and 22. "Having the RacersReunion® VCS event and then weekly racing at Cleveland County Fairgrounds is part of our efforts to better utilize the facility," said Calvin Hastings, Fair promoter/manager. "Our Fall fair, which has been a source of pride for the area since 1924, drew over 150,000 spectators last year. We feel bringing the RacersReunion® event and weekly racing back to the fairgrounds will greatly benefit the surrounding area businesses and will certainly please the passionate racing fans in the area."
More information about this event and future plans can be found at http://racersreunion.com and http://clevelandcountyfair.com.
###