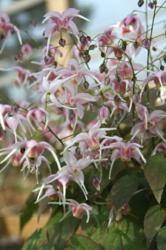 Share our plant passion on Facebook!
Raleigh, North Carolina (PRWEB) January 25, 2012
Plant Delights Nursery (http://www.plantdelights.com), an international mail order nursery specializing in rare and unusual perennials has released their 110 page, full color encyclopedic catalog, featuring over 100 new perennial plants for Spring 2012. For 2012, Plant Delights Nursery introduces 6 new epimediums (the active ingredient in the male enhancement product, Extenze). Epimedium 'Pretty in Pink' is a 2012 PDN introduction with bicolored leaves and pink flowers, while the new cinnamon-leaved Epimedium wushanense 'Sandy Claws' has colorful foliage as well as flowers. New York plantswoman Ellen Hornig has allowed Plant Delights to release her new Jack-in-the-Pulpit, Arisaema consanguineum 'Wild Blue Yonder' which features silver-striped rippled leaves. Buddleia 'Ice Chip', from the breeding program of NC State professor Dr. Dennis Werner sets a new standard in dwarf, sterile, white-flowered butterfly bushes. The bright yellow flowers of the new Clinopodium coccineum 'Amber Blush' is an amazing variant of this native mint-scented plant. Hibiscus moscheutos var. incanus is a little known southeast native plants that features very large white and maroon flowers with unusual velvety silver leaves. The price of the 630 item printed catalog is 10 stamps or a box of chocolates. (The catalog is sent regardless of payment, but the chocolates are truly appreciated). The website http://www.plantdelights.com includes over 1000 additional items not included in the printed catalog.
Plant Delights Nursery was named one of the Top 7 mail order nurseries in the country by Garden Design Magazine in their December 2010 issue. http://www.gardendesign.com/brown/best-mail-order-plant-sources?pnid=117161#gallery-content Plant Delights Nursery was also awarded the Retailer of the Year for 2011 by the Perennial Plant Association. In 2011, Plant Delights Nursery also supplied the perennials for a living wall art project in Charlotte, North Carolina designed by renowned French botanist Patrick Blanc and sponsored by the non-profit group Foundation for the Carolinas. http://www.fftc.org/
About Plant Delights Nursery
Plant Delights Nursery is a mail-order/ internet plant nursery and botanical garden that has been in business since 1988. Plant Delights holds four public open houses per year: two weekends each in winter, spring, summer, and fall. Plant Delights Nursery sells rare and unusual perennials from around the world. Many of their plants were discovered by co-owner, Tony Avent, during his more than 66 plant hunting expeditions to exotic places such as Argentina, China, Crete, and South Africa, as well as over 40 botanizing trips in the US. Plant Delights Nursery and owner Tony Avent are frequently profiled on television (including The Martha Stewart Show and Almanac Gardener), in magazines (including Southern Living, Horticulture, and Fine Gardening) and in newspapers (including the New York Times, Houston Chronicle, Chicago Tribune, and News & Observer). Proceeds from Plant Delights Nursery support the Juniper Level Botanic Gardens, a six acre research and genetic preservation garden with over 18,000 different plants.
# # #