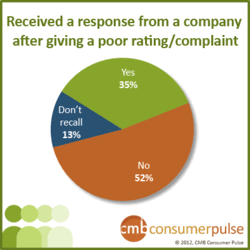 "There is a real disconnect between the research and the action that needs to be taken; closing the door before closing the loop is a missed opportunity."
Boston, MA (PRWEB) January 31, 2012
A recent Consumer Pulse study of over 1,400 U.S. consumers conducted by Boston-based custom research firm, Chadwick Martin Bailey (CMB) and iModerate Research Technologies, looked at why customers complete customer satisfaction surveys, and what they expect from companies and brands in return.
The study found customers give feedback as part of their "job" as a consumer, 57% say they give feedback to help improve the company. And customers don't see themselves as passive consumers but rather as empowered—actively participating in helping companies improve how they do business. When customers do have a negative experience they expect feedback or a response from the company, and most often this is not what they receive. The research shows that only 35% of consumers recall getting a response from a company the last time they shared a negative experience.
"Customer satisfaction research is about much more than the data you get back, it's about the opportunity to engage and often recover your customers after a bad experience," says Jeff McKenna, Senior Consultant at Chadwick Martin Bailey. "Most companies asking customers about a recent experience don't take advantage of this opportunity to turn a service failure around. There is a real disconnect between the research and the action that needs to be taken; closing the door before closing the loop is a missed opportunity."
The desire to help companies improve, and widespread dissatisfaction with companies' response were also two predominate themes in iModerate's one-on-one conversations with 21 Americans over age 18. In the words of respondents:
"The hope for change is definitely a motivator; I would not want someone else to have a bad experience."—Female, 25 to 29
"If the business wants to know how they are doing for their customers, then it is good to help them by giving them feedback, whether positive or negative. And that makes you feel like perhaps you have helped them." —Male, 40 to 44
"If they're going to respond, I'd like it to be specific enough that it looks like a person read my comments and is responding to what I said. Not just a "thank you, have a nice day" kind of response." – Female, 45 to 49
The good news for companies is that half of customers complete satisfaction surveys to share a good experience, versus 35% who do so to register a complaint against the company. When companies respond personally, they have a chance to reconnect and deepen their relationship with their customers.
About This Research
This study was done as part of Chadwick Martin Bailey's self-funded CMB Consumer Pulse program. A report with additional findings from this study is available as a free download from Chadwick Martin Bailey. Data was collected from 1,481 adults (aged 18 and over) via a nationally representative online survey questionnaire within the United States by Chadwick Martin Bailey in October of 2011. In addition, iModerate Research Technologies conducted one-on-one online conversations to gain a deeper understanding of what motivates consumers to participate in customer satisfaction surveys.
About Chadwick Martin Bailey
Chadwick Martin Bailey is a Boston-based custom market research firm who works with many of the most successful companies and best known brands in the world to help them acquire, maintain, and grow their customer base. Founded in 1984 by John Martin and Anne Bailey Berman, the company has corporate headquarters in Boston, Massachusetts, serving clients in more than 30 countries around the globe. Chadwick Martin Bailey focuses on using leading-edge research techniques to collect and translate the data into simple, business decision-focused deliverables.
About iModerate Research Technologies
iModerate Research Technologies is a leading qualitative market research firm with a distinct approach to uncovering the most meaningful insights. Based in Denver, Colorado and founded in 2004, iModerate is known for pioneering and championing the online one-on-one. With over 100,000 conversations to our credit, and an in-depth knowledge of how consumers think and behave, we have helped countless organizations obtain the insights that matter most to them.
###