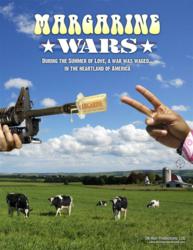 MARGARINE WARS IS COMING
Chandler AZ (PRWEB) January 26, 2012
"Margarine Wars", a romantic comedy, will premiere at ArcLight Cinemas, 6360 W. Sunset Boulevard. The DB Rich Productions, LLC film features an all-star cast and crew and the premiere promises to be a star-studded event, including special guests Ed Asner and Ed Begley Jr.
After painstakingly perfecting the movie during post-production, director/producer David Rich is thrilled to premiere the comedy in Los Angeles and show Hollywood heavyweights his project.
The ArcLight has one of Hollywood's most prominent viewing screens and will provide moviegoers with a unique preview experience at the "Margarine Wars" premiere.
"Margarine Wars" follows the antics of Howard Schmear, an Afro-Jew from the big city. Schmear is left stranded in Butterfield, a small Wisconsin town. In order to leave the town behind and repair his only mode of transportation, he must sell the one item that is banned in Butterfield - margarine. Howard pleases the stomachs of town residents but in the process he causes an uproar. This comedy provides moviegoers a look into the strange and unorthodox mannerisms of a small town.
The film's all-star cast includes Robert Loggia,Doris Roberts of "Everybody Loves Raymond" fame, Dee Wallace, Ellen Muth, Terry Moore, Grant Cramer and the hilarious Ron G. The film's producers and some if the talented crew members are also slated to attend the premiere. Details on more Hollywood appearances are coming soon.
The Hollywood premiere of "Margarine Wars"' is an important milestone for the film, its cast and producers. DB Rich Productions LLC is beyond excited for the Los Angeles premiere and hopes that the industry will enjoy it, laughing and cheering at every scene.
DB Rich Productions is based in Chandler, AZ. It has a second movie being edited currently in Michigan called 'Actor? A Documentary" .
For additional information on the comedy and its cast, visit http://margarinewars.com or find us on Facebook at http://www.facebook.com/MargarineWars.
###